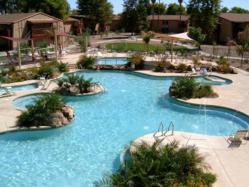 Los Angeles, CA (PRWEB) November 07, 2011
Summit Aventerra, LLC, an affiliated company of Los Angeles-based Summit Equity Investments, Inc. (Summit), announces the acquisition of Aventerra at Dobson Ranch, a 576-unit multifamily property located in Mesa, Ariz. Purchased for $29.1 million, Aventerra is the second purchase made by Summit in 2011, bringing the company's total ownership to 1836 units.
Built in 1980 in the master planned community of Dobson Ranch, Aventerra is a Class B asset, consisting of 449,280 square feet with 78 buildings set on approximately 29+ acres. There is a mix of one- and two-bedroom units. The property is situated on a golf course and is surrounded by lakes. Amenities include a tennis court, covered playground, putting green, two pools, fitness center and a business center.
"After thorough research and analysis, Summit felt strongly that the purchase of Aventerra is in line with our philosophy of acquiring under-performing and improving assets to which we can add value," states Co-CEO Ryan Lynch. "We were confident that this property will continue to be occupied and profitable."
As an integral part of Summit's investment philosophy, Summit conducts a thorough property analysis and determines the scope of management and improvement requirements. The results are one of cost control, detailed budgeting and the upgrading of improvements, all to optimize desirability and property value. By maximizing income, controlling expenses and enhancing tenant relations, Summit properties have and will continue to demonstrate high occupancies and strong cash flows. This consistent management approach assures that Summit investments will continue to command top-of-the-market values.
"Situated within two-miles of the largest employment center in the Mesa market, Aventerra is a well-leased multifamily community in a rapidly growing market," continues Lynch. "This is the second major acquisition this year for Summit. We will continue to analyze similar properties for acquisition throughout the Western United States and as opportunity presents itself, we'll continue to make acquisitions."
Summit was represented by Scott Eschelman and Ron Peters of Preferred Capital Advisors in Los Angeles to engage Walker & Dunlop to provided financing for the acquisition. The loan of $20,388,000 was structured at a 10-year fixed rate with the first three years interest only.
The seller was an REO single purpose entity, and the special servicer who managed the transaction on behalf of the seller was LNR Partners, LLC, based in Miami Beach, Florida.
The seller was represented by Tyler Anderson and Sean Cunningham of CBRE.
About Summit Equity Investments, Inc. ("Summit") is a real estate firm actively involved in the acquisition of prime multi-family real estate in California, Arizona and throughout the United States. Summit was formed in 2009 by Ryan Lynch, Joseph Rosen and Michael Thom, an experienced team with a successful history of multi-family investments. Summit currently owns a total of 1,836 units in the Phoenix/Mesa market. For more information call Michael Thom at 310-598-7073 or visit http://summitei.com/about-us/
###