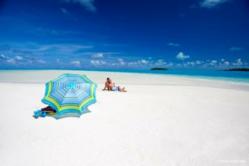 "The Mystery Sale is a kind of cross between a race and a guessing game"
(PRWEB) November 10, 2011
For those who think that a $5,000 vacation for just $1,000 is an attractive deal, and have a taste for mystery, PacificIslands.com and ISLANDS Magazine have an exciting proposition for you. Sixteen incredible complete vacation-for-two packages, each valued over $5,000, will be sold for just $1,000 each... but there's a twist.
"The Mystery Sale is a kind of cross between a race and a guessing game," explains PacificIslands.com President Jean-Patrick Mouflard. "To participate in the Mystery Sale, adventurous travelers just need to register at http://www.islands.com/mysterysale. Then the fun starts. Two days prior to the sale date, every registered participant will receive an email containing a phone number, and telling them when they need to call. At the appointed time, the first four callers will be able to purchase a $5,000 vacation-for-two for only $1,000. But there's a catch… They can choose their travel date, but they won't know where they're going until two weeks before travel. They can view all 16 packages on the website and have a lot of fun guessing which one they got. That's a very pleasant kind of mystery."
The Mystery Sale will feature five premier destinations in the Pacific Region: Tahiti, Fiji, Australia, New Zealand, and the Cook Islands. Each package – a complete vacation for two with air travel and top-notch accommodations – will have a regular price of at least $5,000. The four lucky registrants in each round will get to buy them for the once-in-a-lifetime price of $1,000.
"It's 80% off or more," points out Mouflard. "With 16 Mystery Vacation Packages up for sale, it means 32 people will get a luxurious taste of the Pacific Region for a fraction of the price. The value is enormous."
In addition, everyone else who registers will get $250 off any PacificIslands.com air and land vacation package under $10,000 that features at least one of the Mystery Sale partners, and $500 off any package over $10,000.
There will be four rounds of the Mystery Sale, staged throughout the first eight months of 2012, with four Mystery Vacation Packages in each round. Everyone who's registered is automatically re-entered for the next round of Mystery Sale, too. Registration is free.
"We can offer these unheard-of values because of the extraordinary partnerships we've developed," Mouflard explains. "The hotels and resorts are the pick of the region: The Westin Denarau Island Resort & Spa Fiji, Koro Sun Resort Fiji, Malolo Island Fiji, Sonaisali Island Resort Fiji, Hilton Moorea Lagoon & Spa, Hilton Bora Bora Nui Resort & Spa, Moorea Pearl Resorts & Spa, Bora Bora Pearl Resort & Spa, Manihi Pearl Beach Resort, Heritage Hotels New Zealand, Four Points by Sheraton Darling Harbour Sydney, Hamilton Island Reef View, Muri Beach Club Hotel Cook Islands, Aitutaki Resort & Spa Cook Islands, Sanctuary Rarotonga Resort Cook Islands."
Air transportation will be provided by Air Tahiti Nui, Air New Zealand, Air Pacific, V Australia, Air Rarotonga and Air Tahiti. "We have also partnered with the tourism bureaus," adds Mouflard, "to ensure everything works: Tahiti Tourism, Tourism Fiji, Tourism New Zealand, Tourism Cook Islands, and Tourism Australia." Car rentals in New Zealand will be supplied by Avis.
Registration for the Mystery Sale will open Nov. 10, and is free. Special terms and conditions apply, and full details can be reviewed on the Mystery Vacation Sale registration page.
For more information on the Mystery Sale, visit PacificIslands.com or ISLANDS Magazine website, and then get your passport ready.
Editors & Producers: To arrange interviews with the President of PacificIslands.com, Jean-Patrick Mouflard, about the beauty and excitement of the South Pacific, contact Steve Miller, Metaphorce Creative Services, steve(at)metaphorce(dot)com, 424-242-4748.
About PacificIslands.com
PacificIslands.com is a unique, customer-focused travel agency specializing in bringing the magic of the South Pacific Islands within easy reach. It was conceived in 1998 by Jean-Patrick Mouflard, born of his passion for this unique and mysterious part of the world. Incorporated in 2008, the company partnered with Tahiti Nui Travel, a major travel corporation in French Polynesia, in 2009. The beta version of the site launched in May 2010, and was opened to the trade and the public in August 2010. In June 2011, the redesigned PacificIslands.com debuted, offering more options and easier access, offering the pacific at the speed of a click.
###