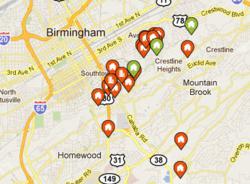 "Our mission is to make buying your home easy," said Movoto CEO Henry Shao
San Mateo, CA (PRWEB) November 05, 2011
Movoto.com, a leading provider of free access to MLS listings and home buying services, announced today the expansion of their services to Alabama.
Alabama home buyers will now have access to more than 11,000 active MLS Listings in Birmingham, Huntsville and other major cities in Alabama.
Movoto.com helps simplify the process of reviewing homes for sale to find a property that meets your needs. When you view Alabama homes for sale on Movoto, you also have access to detailed school information, neighborhood demographic data, comparable properties, and local homes for sale market statistics.
Movoto.com's search interface recognizes the top 3 rules in real estate: "Location, location, location". With Movoto.com's advanced search wizard, a home buyer can quickly and easily sort and review home for sale listings on a fast, interactive map. When you find a home you'd like to view, Movoto.com offers access to an exclusive network of top local real estate agents to help you view and purchase a home. Agent services are provided free of charge to buyers.
"Our mission is to make buying your home easy," said Movoto CEO Henry Shao. "The real estate market continues to be complicated, but buying a house doesn't have to be difficult."
Movoto now offers its free, full service real estate brokerage services and advanced search tools to find homes for sale listed in the MLS in 28 states and Washington, D.C. For more information, please visit http://www.movoto.com.
About Movoto
Founded in 2005, San Mateo based Movoto is led by an experienced team of real estate industry veterans and internet technology experts with a shared vision of making it easy to buy a home. Movoto provides a unique online home-buying solution that combines innovative, easy-to-use research tools with ready access to a network of experienced local real estate agents. In 2011, Movoto was named to the Inc. 5000 list of fastest growing companies. For more information about Movoto please visit http://www.movoto.com/aboutus.aspx.
###