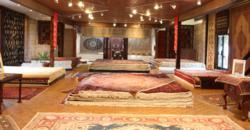 Marin, CA (PRWEB) November 06, 2011
For years, Marin Oriental Rug House has pleased Bay Area residents with its wide range of selections and warm Middle Eastern hospitality. Interior decorators and woven art collectors have grown to regard this store so highly that it is renowned as Bay Area's Oriental Rug Mecca. Owners Masoud Mossabeh and Max Safavi, have diligently applied their years of experience to manifest their vision of servicing local clientele with hand selected decorative pieces.
Marin Rug House is celebrating their Anniversary by giving back to their loyal customers. Discounted pricing on their largest selection of Oriental Rugs makes purchasing one of these finely crafted pieces accessible to everyone.
Conveniently located in the Marin, Oriental Rug facility is founded upon 50 years of industry experience. While most San Francisco Area Rugs are now mass produced, often sacrificing quality for means of production, Max and Masoud continue to search for the last batch of unique Oriental Rugs available-often at more affordable prices than their production counterparts. Their vast 7000 square feet showroom is a testimony to their efforts where thousands of exquisite, fine woven artifacts are gathered under one roof. The various styles of Oriental Rugs align with an array of décor, tastes and budget preferences.
At Marin Oriental Rug House, customer service is a foundational component of business. Their pre and post purchase services are absolutely second to none throughout San Francisco Bay Area and beyond. Whether you're seeking their signature "Green n' Clean" rug cleaning service or a museum- level Oriental Rug cleaning repair/ restoration or a hassle free trade-in, the accommodating staff will make sure you're satisfied. For years Bay Area clientele have enjoyed various services such as, in-store or on the site decorating consultation along with home delivery and placement for all kinds of Area Rugs.
Marin Oriental Rug House is a top-ranking collector and distributor of Oriental Rugs and unique Area Rugs. Located in Marin, they offer museum- level Rug Cleaning and 100% customer satisfaction each and every time. This San Francisco hub of Oriental Rugs offers trade- ins, delivery, placement along with on-site and in-store decorating consultations. They are located at 256 Shoreline Highway and can be reached at 415-322-3432 or info(at)therughouse(dot)com.
###