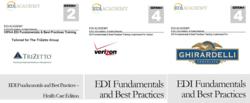 Customized EDI Training offering was a critical success factor for the EDI Academy.
San Diego, California (PRWEB) November 06, 2011
The first seminar will be a HIPAA Fundamentals and Best Practices class in Dallas, Texas focused on all nine Health Care EDI Transactions: 270 271 Health Care Eligibility Inquiry and Response / 837 Health Care Claim, 276/277 Claim Status Inquiry and Response, 835 Health Care Payment Claim, 278 Health Care Authorization, 820 Remittance Advice for Premium Payments. The class will be held at the Dallas/Forthwith Airport Courtyard Marriott which provides easy access to students flying in to take the class.
The second seminar, EDI Fundamentals and Best Practices Training, will be held on February 2-3, 2012 at the Hyatt Regency Tampa Hotel in the heart of Tampa, Florida. EDI Academy is honored to present this class at the tail end of the DISA'S EDI X12 Conference.
EDI Academy is excited to announce that will hold its first class ever in Boston, Massachusetts which will be held in September of 2012 at the Boston Logon Airport Courtyard Marriott.
In addition to classes in the United States, EDI Academy is proud to announce a class in Europe which will concentrate on EDIFACT and Tradacoms. The class in Europe will be at the Heathrow Airport Marriott in July.
Eleven more classes are scheduled for the year and will be held at the following locations: New York, New York; Chicago, Illinois; San Diego, California and London, UK.
EDI Academy had a record of custom on-site seminars in 2012. Organizations such as Verizon Data Services, Ghirardelli Chocolate Company; TAMKO Building Products; McCormick & Company, Inc; National Raisin Brand have enjoyed classes that have been customized for them for the all industries curriculum.
On the healthcare side organizations such as TriZetto Group, DST Health Solutions, Tampa General Hospital, Delta Dental of Michigan, Oklahoma State Dept. of Health, Key Benefit Group of Indiana have all been very happy with the training that the EDI Academy has provided to them.
EDI Academy has been successful in delivering authentic, real-world EDI experience by covering topics such as: History and Origin of EDI, Major EDI Advances, How EDI is applied in different industries, The Business Need for EDI, Introduction to EDI standards, EDI Communications – VANS, Internet EDI, AS2, FTP, Document Tracking and Monitoring Concepts, Components of the EDI Environment: Software and Hardware Day and Technology Environment. In addition to introductory topics, EDI Academy also covers topics such as: EDI Mapping and Translation Scenarios - EDI to Flat File, CSV, XML, Deciphering Popular EDI Transactions element-by-element: 997, 850, 810, 856, 820, 837 (attendees may request more transaction samples during registration), Analyzing EDI Implementation Guidelines, Best Practices of Writing EDI Implementation Guideline and instructions on dealing with Common Mapping Barriers.
Another section of the course that a lot of students have favored over the years was related to Strategies for Successful Implementation. Topics such as Business Application Integration Best Practices, EDI & Industry Compliance (Sarbanes Oxley), Fighting Chargebacks, Cutting Cost, Improving Processes and Increasing Productivity with unconventional EDI transactions (110 Air Freight Invoice,852 POS Product Activity Report,811 Consolidated Invoice (Telecomm and Utilities,834 Benefit Enrollment and more).
Real world case studies are an interesting part of the course as well. In 2011, most students really enjoyed a case study of how a warehouse cut receiving time from 75 hours to 2 hours.
Another critical success factor for the EDI Academy is the fact that it continues to remain software-independent and vendor-neutral, while other training competitors are offering classes that only work in their software and are more of a sales pitch than training.
EDI Instructors at the EDI Academy have typically have over 15 years of EDI experience, they have served as the EDI Managers for a national retail chain lead EDI Initiatives at a Fortune 500 companies and managed Health Care software development teams. Everything in the curriculum is from real-world experience. By mixing best practices with fundamentals - this class is designed for both the novice and the seasoned EDI professional. The class has been attended by hundreds of students and gets over 98% positive rating on all course evaluations over the past two years.
EDI Academy 2012: Find out more
To learn more and sign up for a seminar, see the organization's training course schedule page; or find out more about the EDI Academy at http://ediacademy.com/.
###