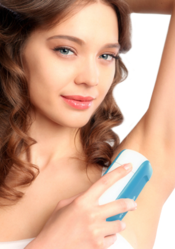 Your skin. Brilliant.
Montreal, Canada (PRWEB) November 05, 2011
EvoDerma Inc. will showcase its flagship product LUMI™, an IPL hair removal device intended for the home market, at booth #1738 at the Javits Convention Centre in New York City this November. The LUMI IPL Hair Removal device efficiently eliminates unwanted hair anywhere on the body below the neckline, providing smooth, hair free skin.
Getting rid of unwanted hair is a preoccupation for many people, both male and female. Hair removal by traditional methods is only temporary and can be costly in the long run when factoring the amount of time and money spent. EvoDerma is now offering a new product called LUMI™ that uses Intense Pulsed Light (IPL) as a permanent solution for the reduction of body hair.
Compared to expensive IPL and laser hair removal treatments in clinics and spas, LUMI™ is a cost-effective one-time investment. The engineers and experts at EvoDerma have put years into perfecting LUMI™ in order to provide long lasting results after just a few treatments. EvoDerma's LUMI™ features the industry's largest applicator tip, allowing more hair to be removed with each light pulse, all from the comfort of home.
The advanced IPL technology used by LUMI™ is a scientifically proven method of hair removal that has been practiced in professional clinics worldwide for many years. The treatments are gentle; yet produce similar results to laser hair removal sessions.
EvoDerma Inc invites all Ad:Tech attendees to discover LUMI™ at the upcoming New York show. There will be live demonstrations for all Ad:Tech guests and the opportunity to participate in our Win-1-of-5-LUMI draw. EvoDerma will be giving away multiple LUMI hair removal systems at Ad:Tech New York, and the winners will receive a Limited Edition LUMI IPL Hair Removal device.
As an EvoDerma representative stated: "This is a fantastic opportunity to discover EvoDerma's alternative to professional hair removal and maybe even win one of 5 LUMIs which we are giving away. EvoDerma is looking forward to show how this home-based hair removal device is the ultimate beauty tool." For more information, please consult: http://www.evoderma.com.
About EvoDerma
EvoDerma Inc. is a company whose objective is to provide cutting-edge hair removal and skin care products for the home. Its research and development department is continuously working to provide consumers with safe, cost-effective and technically advanced products for aesthetic treatments. The LUMI™ IPL hair removal device, EvoDerma's flagship product, is a testament to the company's commitment to quality, safety and efficiency.
###