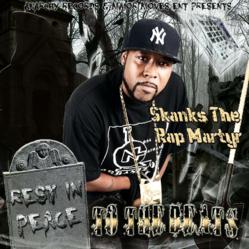 Miami, FL (PRWEB) November 06, 2011
Rap artist Skanks The Rap Martyr recently released his mixtape "Rest In Peace To The Beats." Coast 2 Coast Mixtapes presents the project in association with Anarchy Records and Major Moves Ent., and it is now available for free download. "Rest In Peace To The Beats" features Skanks on records with Grimey, International Blizz, Cash Bilz, Ill Phil, and P. General. Production is added by Duddaman.
Skanks The Rap Martyr was born on the U.S. Virgin Island of St. Croix, but was raised from a young age in Brooklyn, NY. He developed an interest in music early on, as his big brother Goldz was a local DJ and up-and-coming producer. When Skanks was growing up, he came across artists such as Das Efx, DJ Klark Kent, Mos Def, Talib Kweli, and many more working right out of his basement in a studio his brother built. But at the age of 11, no one was willing to give a young Skanks a chance. Then one day while getting kicked out of the studio as usual, young Skanks dropped his rhyme book. When the older guys read what he wrote, they were more than impressed. The next thing you know, young MC Row—which was Skanks first rap name—was the main artist working out of the studio. Gaining interest from a number of artists in the industry, Skanks decided to go the indie route and started LaCosa Nostrand and Anarchy Records.
Skanks has recently released mix CDs including "Back From The Future" with the hit single "King Of The Streets" featuring reggae superstar Anthony B. and "The Flowfessional" with The Morning Paper featuring Ras Droppa about the issues that are destroying the world. Skanks has also recently released his DVD "LCN TV Vol. 2," documenting his recent tour experiences with artists like Young Jeezy, Lil Boosie, Gucci Mane, Ace Hood, and others.
"Rest In Peace To The Beats" is available for free streaming and download at http://coast2coastmixtapes.com/mixtapes/mixtapedetail.aspx/skanks-the-rap-martyr-rest-in-peace-to-the-beats.
###