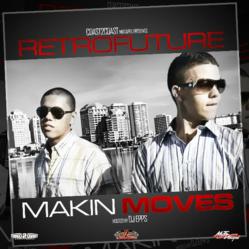 Miami, FL (PRWEB) November 07, 2011
Artists Retrofuture recently released their mixtape "Makin' Moves." Coast 2 Coast Mixtapes presents the project, which is hosted by DJ Epps. It is now available for free download. "Makin' Moves" features Retrofuture on tracks with guest artists Joey Jay, Bobby G, and Juvie.
The group now known as Retrofuture originated as a part-time collaboration between longtime friends Seby Zabala and Alan Sadler. Initially known as MTVeins, Alan Sadler has extensive experience in crafting poetic lyrics over almost any beat he can get his hands on. It was this that provoked fellow group member, Seby Zabala, an ambitious and creative individual who was constantly experimenting with the finer details of various diverse beats and lyrics himself. The collaboration started as a side hobby for the two to enjoy during their down time. As time went on, their devotion to the project became ever greater, and the two artists began to share aspirations of one day becoming internationally acclaimed artists. It is more than common these days to find the duo hard at work producing their next great hit for their eager audience. Once held back by the restraints of high school life, the two have now taken off full speed for future stardom. Utilizing their natural talents and the aid of many of their close friends, Retrofuture has set itself on a course for future prestige and promise.
Incorporating styles such as rap, hip-hop, and even techno, Retrofuture is sure to have something most listeners will enjoy. As college students, Retrofuture aims to reach out to their fellow peers at universities across the nation who can relate to them in both musical taste and in understanding the meaning behind their thoughtful lyrics. As a group that has now just begun to spread its wings, Retrofuture seeks every opportunity it can to bring its musical style to listeners everywhere.
DJ Epps is a Coast 2 Coast Mixtapes All Star DJ. When it comes down to rocking parties, Epps is definitely the man to call. Born Yves Felix, a Haitian-American, Epps was raised in Manhattan, New York, where during his early years he found his passion to become a DJ. Epps has hosted and mixed many mixtapes including several editions of the weekly Coast 2 Coast Mixtape series. DJ Epps' "The Free Album" is currently available for free download from Coast 2 Coast Mixtapes, and he recently began the "Taking It To The Streets" radio show on Power 96 Miami. For more information, check out http://www.djepps.com
"Makin' Moves" is available for free streaming and download at http://coast2coastmixtapes.com/mixtapes/mixtapedetail.aspx/retrofuture-makin-moves.
###