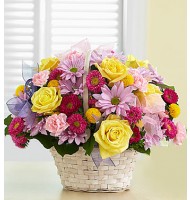 Let us arrange a smile for you.
Bangalore, India (PRWEB) November 07, 2011
The A1 Mumbai Flowers is pleased to announce its recent release of new products. It has special designed baskets with gift combination, life size arrangements and nicely wrapped bunches. This new online portal of A1 Mumbai Flowers to Ghaziabad goes above and beyond what current online site offers by service what is most important to people, taking care of your emotions.
A1 Mumbai Flowers is one of the premier flower growing firms for Mumbai as well as for India and the A1 City Flowers team has created a special website to promote its products over internet. A1 Mumbai Flowers introduces a unique "Design by Feelings" concept, giving designers the ability to design by caring about their customers and by simply interacting with customers to know their feelings and give appropriate flower design to them. This simplified designing process allows for good customer interaction with A1 Mumbai flowers.
A1 City's high-quality product selection includes tall arrangements, richly patterned hand-design bouquet, hand-crafted cakes, and other flower decor, wedding and occasions items.
"It's always fun to take somewhat creative look at a highly emotional, subjective topic like what are the best designs of all time," says florist, Vikas Sharma. "People wanna talk about a design list – A1 flowers has got one for you here with every size, shape and design of high end arrangement. People have to book your flowers over Mumbai website for flower delivery in Mumbai to see for creativity."
Modern India has instant access to the latest online trends. However when it comes to picking their own flower arrangement, they choose designs that is tasteful, contemporary and practical. "Company primary clientele is modern, successful Indian people," said Renu of A1 City Flowers. "They are constantly looking for better designs with better price and moreover is the service that India people need in social environments. Company goal is to help them manage this disparity and strike a unique flower arrangement through style and fashion.
A1 A1CityFlowers states, "A1 Mumbai flowers are doing our best to create more products that give our customers more opportunities to buy Mumbai quality and make a difference to our industry. Company want to be known as a company that has a purpose and makes a difference in our field of flowers. We always believe in taking feedback from customer to provide better quality flower delivery Mumbai."
About A1 Mumbai Flowers
A1CityFlowers™ is a leading, national, flower service provider which offers specialized flower arrangements to consumers and small businesses, via online, on a variety of occasions in Mumbai. It has the vast collections of flower design to choose them online and make a flower delivery Mumbai through its online portal.