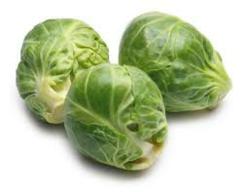 Brussels Sprout @ Olericulture.org
(PRWEB) November 06, 2011
Olericulture.org provides a wide range of resources related to the science and technology of cultivating and producing vegetables. Within this scientific discipline the site focuses on traditional temperate and oftentimes indigenous, tropical vegetable crops.
The commercial produce of Brussels sprout (Brassica oleracea convar. oleracea, Brassicaceae) are the small leafy green heads developing from the nodes of a long, thick stalk. Brussels sprouts can successfully be cultivated only at moderate environmental temperatures of 7–24°C and can be harvested 90 days after transplanting. Brussels sprouts are of the same cruciferous species that includes cabbage, collard greens, broccoli, kale, and kohlrabi. Due to their content of sinigrin and sulforaphane Brussels sprout may have potent anticancer properties. The vegetable also contains indole-3-carbinol which boosts DNA repair in cells and prevents growth of cancer cells.
The Brussels Sprout Section within the Vegetables Crops Category of Olericulture.org provides information about the aspects of production of broccoli including cultivation, pests and diseases, harvest, postharvest, storage and marketing. The most popular resource in this section is the Brussels Sprouts page of the "Vegetable Garden: Selected Vegetable Crops" website published by the Arizona Cooperative Extension, College of Agriculture, University of Arizona. The page covers environmental preferences, culture, cultural practices, common problems, and harvesting and storage of Brussels Sprout. Cornell University and the New York State IPM Program publish a page on Integrated Pest Management (IPM) for Brussels Sprouts in New York State, covering major insect, disease and weed pests. The page provides practical solutions for site preparation and selection, planting, pest monitoring and forecasting, pest management, and postharvest. Oregon State University provides "Commercial Vegetable Production Guides" and the page on Brussels Sprouts focused on crop fertilization practices based on soil testing results.
Several websites aggregated in the Brussels Sprout Research Section of Olericulture.org provide information related to the anti-cancer properties of Brussels sprout. The European Food Information Council (EUFIC) publishes a page on "Boiling vegetables may impair anti-cancer properties" suggesting that consumers should avoid boiling Brussels sprout in order to gain the maximum nutritional benefits. A review on "Bitter taste, phytonutrients, and the consumer" published in the American Journal of Clinical Nutrition suggests that the content of bitter dietary phytonutrients may be incompatible with consumer acceptance. Such nutrients comprise plant-based phenols and polyphenols, flavonoids, isoflavones, terpenes, and glucosinolates which lower the risk of cancer and cardiovascular disease. The National Institute of Health's National Cancer Institute provides information on diindolylmethane which is a phytonutrient and plant indole found in cruciferous vegetables including Brussels sprouts. The substance promotes antioxidant and antineoplastic activity.
Olericulture.org was launched in 1996 and has emerged as a comprehensive aggregator of websites and science references in the applied life science olericulture. The site is now under new management and has just been republished.
Users who wish to submit their own or their company's information for inclusion in Olericulture.org are welcome to submit their listing through the site. Furthermore, the site maintains a number of RSS feeds which enables users to subscribe to their most favorite topics within the site. For better public exposure Olericulture.org also maintains the Twitter account @Olericulture.
###