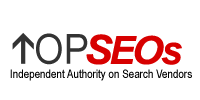 Customer Magnetism Ranked as Number 4 Best Local SEO Company by topseos.com for November 2011
(PRWEB) November 09, 2011
topseos.com, the independent authority on search vendors, has released their list of the ten best local search engine optimization companies in the online marketing industry. Customer Magnetism has been listed as the fourth best local search company as the result of an evaluation process among nine other companies which have been selected as the best service providers which cater to a local audience.
The local SEO services which Customer Magnetism offers provide localized SEO services which help local businesses find relevant audiences targeting their type of business. In many cases, customers turn to search engines or social media to find products and services in their area. Customer Magnetism offers a set of services which assist business owners at having their locations found on services ranging from Google Maps to social media services which display local businesses to customers traveling across the United States. These services provided by Customer Magnetism achieve this through a comprehensive approach to local search marketing.
topseos.com releases their list of the best SEO service providers on a monthly basis. A dedicated team of researchers meticulously evaluate thousands of local search marketing companies to identify and rank the best service providers in the industry. A set of evaluation criteria is used during the evaluation process which includes the five most important aspects of local search services for companies looking to improve their local business. Local search services work best for companies with a physical location which are looking to appear to their customers effectively through local search services. Aspects which are covered in the evaluation of local search services include the following: Keyword Selection, Optimization, Reporting, Needs Analysis, and Localization.
Through the process of evaluation, Customer Magnetism has displayed strong principles which has allowed for them to obtain high marks in these five aspects in evaluation for local SEO services. topseos.com also connects with the customers of each local SEO agency companies to better understand the quality of customer service and a service provider's overall dedication to customer excellence. The research team connected with at least three customer references of Customer Magnetism which revealed a strong communication with clients and an appreciation for customer satisfaction.
The companies who are featured in the list of the best local search companies are service providers who have a history of strong optimization for businesses with a physical presence in their areas. topseos.com is confident that Customer Magnetism offers a service that is comprehensive and effective in optimizing their clients for localized search services and map services. Those looking to expand their local businesses should consider Customer Magnetism for their local search services.
ABOUT topseos.com
topseos.com is a well-known independent authority on search vendors. Established in 2002, the goal of topseos.com is to recognize and rank those individuals or companies providing the best online marketing services all over the world. A specialized team of researchers examine thousands of applicants each month who are seeking to be ranked as a top internet marketing service provider by the independent authority. This website is being visited daily by thousands of visitors all over the world looking for the best services available. The website also provides various types of facilities other than the independent rankings which provide useful information to customers and providers of online marketing services.
To view the complete list of the Best Local Search Companies visit:
http://www.topseos.com/rankings-of-best-local-seo-companies
To learn more about Customer Magnetism visit:
http://customer-magnetism.topseos.com/
###