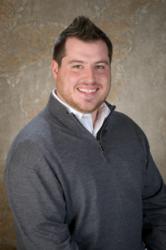 Everyone should be physically able to do the things they love to do. That's what I'm passionate about. I want to help people get to the point where they can do the activities they love again.
Bloomington, Illinois (PRWEB) November 07, 2011
An innovative new chiropractic clinic has opened in the Bloomington/Normal, IL area. Shepard Pain and Performance Care takes a personalized approach to pain treatment and provides effective, lasting therapy to common pain and performance issues.
Dr. Shepard's approach is what makes his practice so unique. He believes that every patient deserves an individualized approach that finds and treats the root of his or her problem, not just the symptoms. "We aren't interested in using a cookie cutter approach, treating every patient the same way." At Shepard Pain and Performance Care, they recognize that every patient and every problem is different. Treatment plans are customized to each individual and their particular ailment.
Dr. Matt Shepard is no stranger to pain. His journey to becoming a physician was the result of several life threatening illnesses that he experienced as a child. Because of his early life experiences, he had a deep desire to help others find pain relief and achieve optimal athletic performance. Dr. Shepard received his Doctor of Chiropractic degree from Palmer College of Chiropractic, the first chiropractic college in the world.
Treatments at the clinic will vary from patient to patient; they will sometimes involve chiropractic work or they might require an active release therapy (A.R.T.). Shepard Pain and Performance Care is the only certified provider of A.R.T in McLean County. This treatment is a patented, state of the art soft tissue therapy developed to treat problems with muscles, ligaments, tendons, fascia and nerves. A.R.T. is often used to treat headaches, back pain, sciatica, plantar fasciitis, shin splints, knee problems, tennis elbow and carpal tunnel syndrome.
At Shepard Pain and Performance Care, evidence-based treatment methods are used on patients to relieve pain. Dr. Shepard describes evidence-based treatment as an approach to pain management that uses specific principles and strategies supported by research. These methods have been tested and there is significant evidence showing they are effective. Patients should be able to understand the cause of their pain and reach their treatment goals with the peace of knowing their treatment methods have been proven effective through prior research.
# # #