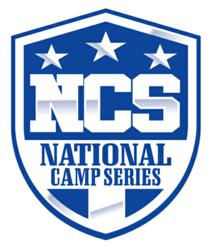 Our goal is to have student-athletes leverage their sport for a college education.
San Diego, CA (PRWEB) November 06, 2011
It was light breeze and typical sunny San Diego day as kickers, punters, and long snappers to take their best shot at achieving a good ranking on the National Camp Series (NCS) newly launched Kicking IndeX known as the KIX Player Index Rating.
The NCS event, hosted by former NFL Kicker Michael Husted of Husted Kicking, drew some of the area's best college prospects to compete with each-other. More importantly, players have the opportunity to see where they rank along with other kickers from across the nation on the NCS KIX Rating System.
According to Husted, the day provided many great looking kicks from some very talented kickers, but one kicker in particular stood out. Seamus McMorrow from St. Augustine High School impressed coaches and fellow kickers going a perfect 10 for 10 on field goals and booming Kickoffs, avgeraging 72 yards per kick, with his best kick off of the day traveling 76 yards with a 4.19 second hang time.
"Seamus was very impressive. He showed today why he is one of the top kickers in the state, and possibly in the country," said Husted. "Without a doubt he has one of the strongest legs in the country, and in my opinion he is undoubtedly a scholarship pick. If I were a major college program, I'd offer him tonight."
Husted said many of the athletes 'stepped up' and showed why they are the area's best. Over half of all kickoffs went sailing into the end zone and a many punts traveled well over 40 yards!
"We had a lot of good talent out here today looking for their chance to shine," said Husted. "Connor Derby, a junior college prospect, stood out across the board. He looked solid in all three areas of kicking field goals, kick offs and punts. Connor is a scholarship guy!"
Senior kicker Hayden Hunt from Long Beach Poly also demonstrated that he can handle kicking field goals, kick offs and punts. Hunt averaged 4.28 second hang time with a 46.20 average on punts.
Grossmont Junior College punter Stephan Moss displayed excellent hang time and distance on punts. He averaged 4.22 second hang time with a 41.70 yard average. His best punt traveled 4.68 seconds and a distance of 45 yards.
Husted said with all the impressive upperclassmen, it might have been easy to overlook the younger athletes.
"But that wasn't the case at this event," said Husted. "We had some solid Juniors and Sophomores out here today. Gabe Renna, 2013, from La Costa Canyon High School had nice form and consistency on field goals. Sophomore, Nick Sinclair from St. Augustine, and heir apparent to Seamus McMorrow, was very solid and accurate on field goals as well."
Grossmont Junior College long snapper Matt Poulin was very consistent and accurate with both his punt and field goal snaps. He also demonstrated excellent blocking skills.
To wrap up the day, Husted discussed mechanics and recruiting and he also answered many of the questions parents and athletes had about NCS and what their next 'career' steps might be.
"That's what makes the National Camp Series so valuable for kickers," said Husted. "It is a strong network of kicking coaches who have joined together to give these young athletes a legitimate, unbiased evaluation for these athletes to see where they stack up and help them get to the next level."
Husted, ended the camp by telling participants and their parents "Our goal is to have student-athletes leverage their sport for a college education."
For more information about these events and the NCS KIX system go to the NCS website.
For more info on Husted Kicking or Michael Husted, visit Husted Kicking.
# # #