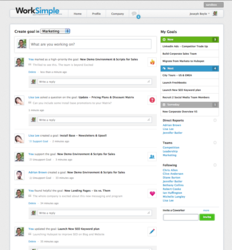 The next generation of enterprise software will be employee-chosen and employee-driven," said Ben Moore, CTO and co-founder of WorkSimple.
San Francisco, CA (PRWEB) November 07, 2011
WorkSimple (http://www.getworksimple.com), the company that was the first to make goals social and performance results-driven, is now the first to make performance communication part of the stream. Today, WorkSimple announced its latest release -- which includes Agile Goals and Activity Stream -- in which performance management takes advantage of the social features made common by consumer applications: Facebook-, Linkedin-, and Twitter-like status updates, followings, and activities in real-time.
There is an aggressive shift in the adoption of enterprise software today. Applications adopted by the employee-base leverage social and collaborative features: CRM such as Salesforce's Chatter, project management such as Basecamp, file sharing such as Box.net, and communication such as Yammer.
However, performance management players today are stuck in a top-down, closed system that does not reflect what employees need and how they work. According to Reuters, four out of five U.S. workers are dissatisfied with performance reviews and would like to see them to better reflect their work. WorkSimple's social technology enables co-workers to collaborate around goals and follow people, teams, or the entire company in a way that is familiar to them.
"The next generation of enterprise software will be employee-chosen and employee-driven," said Ben Moore, CTO and co-founder of WorkSimple. "Employees are already picking their CRM and they are choosing Salesforce. In the future, employees will also choose their performance management platform, and it won't be the larger HR/talent management vendors out there today. They will select a employee-centered platform like WorkSimple."
Many employees struggle to connect the workforce to what truly matters -- a vision, direction, mission, and brand. Now employers have a collaborative way of engaging the entire workforce regardless of their demographic, location, or role. Similar to Facebook and LinkedIn, WorkSimple is delivering goals and goal information (updates, comments, feedback, recognition) directly to the user in the application and through daily digests and notifications.
With the introduction of agile goals and a real-time stream, WorkSimple elevates performance management and helps workers keep their goals aligned with the team's priorities, visualize goals and performance across the activity stream, and strengthen the gaps in feedback between colleagues and managers. This is a groundbreaking shift in the employee performance industry that will transform work and appraisal reviews.
"We've built WorkSimple with the employee in mind from the ground up to give teams and businesses the tools they need to drive engagement in their enterprise," said Morgan Norman, CEO and co-founder of WorkSimple. "Organizations are quickly realizing that WorkSimple is enabling them to focus on innovation and creating business value in a way that traditional HR software doesn't do."
WorkSimple pricing and availability:

WorkSimple Always Free (Unlimited Users): Social Goals™, LinkedIn Integration, WorkStory™, Feedback, Recognition, Professional Reputation, Teams, and Reporting
WorkSimple Team Edition ($5 per user/month): The Team edition includes all Basic Features, plus Goal Reviews, Goal Scores, and Enhanced Reporting.
WorkSimple Company Edition ($9 per user/month): Includes enhance administration controls and premium support.
Supporting Resources:

About WorkSimple
WorkSimple is the new way to drive performance. Individuals, small teams and large global organizations alike use WorkSimple as a better way to share goals, work together, get and give feedback, and make others shine. The basic version of WorkSimple is free for unlimited users, and includes WorkStory™, Social Goals™, Praise, Get Verified, Feedback, and Activity Steams. Customers can pay to upgrade for additional functionality including Goal Reviews, Goal Score, and Influence. Get started at http://getworksimple.com.
###