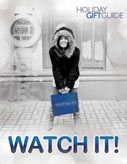 We've handpicked a range of watches, sunglasses and accessories to help you stay festive and on trend for the holidays
Toronto, Ontario (PRWEB) November 07, 2011
The holiday season is a classy affair, with no shortage of dinner parties and cocktail soirees. Watch It! makes party dressing easy with looks that celebrate the season and sparkle for the holidays. Styling Canadians since 1999, Watch It! is excited to launch its annual Holiday Gift Guide, featuring the chance to get $25 in Watch It! cash.
Watch It! is a national retailer with 21 stores across Canada and a leading e-commerce site at http://www.watchit.ca, offering a wide selection of brand names including Michael Kors, Nixon and Casio, making it easy to find the perfect gift for everyone on your list. "We've handpicked a range of watches, sunglasses and accessories to help you stay festive and on trend for the holidays," says Darren Bondar, Founder and President of Watch It! "We are excited to offer customers unique gift ideas that are not only fashionable, but affordable too."
For the 5th consecutive year, Watch It! is offering a special promotion that gives $25 in Watch It! cash every time you spend $200 or more between November 1st and December 24th, 2011. As the number one source for holiday gift seekers, Watch It! also presents a customizable corporate program designed specifically for your brand and its unique clients.
Celebrate the holidays with Watch It! and dress your best to sparkle this season! For interview requests with Darren Bondar or for further information, email: winston.ma(at)lotusleaf(dot)ca.
# # #