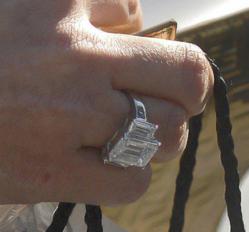 GGC Diamonds actually specializes in situations like these, just watch the video on the homepage.
New York, New York (PRWEB) November 07, 2011
Diamond buying company GGC Diamonds has offered to buy recently divorced reality television star Kim Kardashian's 20.5 carat diamond wedding ring. And who could blame them. It's not like Kim is going to need the ring anymore after her marriage to NBA player Kris Humphries ended after a whopping 72 days.
GGC Diamonds might have a hard time getting the ring from Kim K. if her mother has anything to do with it. The feisty Kris Jenner, who also serves as Kim's manager says that she should keep the 20.5 carat diamond ring because "It was a gift." The diamond was designed by Lorraine Schwartz and is reportedly valued at a cool $2 million. That's roughly one year's salary for the highly average NBA baller that Kris Humphries is.
And since he's technically unemployed because of the NBA lockout going on he might need that ring back to pay rent. At any rate, GGC Diamonds has been in business over 80 years and knows a great diamond when they see one. The company specializes in buying diamonds from divorcees. Each ring they buy is inspected by a certified GIA Diamond Grader. People who sell their diamonds to GGC receive their money in just 48 hours via bankwire. Not that she needs the money, but if she accepts the undisclosed offer, Kim could get a big payout in as little as 48 hours!
The Kardashian/Humphries wedding came to an abrupt end even by Hollywood's standards. In fact, E! Entertainment Network is still playing the reruns of the "happy couple's" two part wedding special. A lot of skeptical fans suspect the whole thing was a publicity stunt to drum up ratings – a charge that both E! and the Kardashian/Jenner clan adamantly deny.
Since the couple's E! special aired they have been busy. They took their honeymoon in Europe, celebrated Kim's 31st birthday with a big bash in Las Vegas, did filming for Kim and sister Kourtney's show "Kourtney and Kim Take New York," and oh yeah, filed for divorce.
Only time will tell if Kim takes up GGC Diamond's offer to buy her ring. Stay tuned…
If you'd like more information about GGC Diamonds, or to schedule an interview with Ryan Kaplan, please call 1-877-909-4653 or email ryan(at)ggcdiamonds(dot)com
###