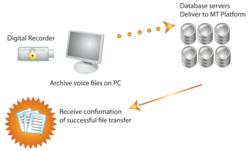 Lake Forest, IL (PRWEB) November 08, 2011
Scribe Healthcare Technologies, Inc., proudly introduces its new version of Scribe DirectTM. Scribe's proprietary, fully automated and secure voice-file transfer application not only makes dictated voice file transfers seamless, but has recent folder enhancements, file-error notifications and a duplicate folder feature.
Scribe Direct is an easy-to-use, reliable and cost-effective program to automatically upload digital sound files onto the Scribe Platforms. Scribe Direct is compatible with most digital, handheld recorders and can be configured based on the users' requirements for file archiving and preferences. A single installation can be configured for one or multiple dictators to expedite encrypted file transfers. "Coming from a background in health information technology, I have worked with several dictation systems," said Lyle Burlingame, Marketing Director for ETM 3. "Scribe Direct is by far the most user-friendly program I have worked with. The installation and set-up was a breeze for my dictating doctors."
The latest release enables users to specify folders for groups and turn-around times (TAT). Installation now provides for standard turn-around times as well as additional options including STAT, 8 hour, etc.
"One of our larger clients utilizes the turn-around time feature for their dictations," continued Lyle Burlingame. "It reduces administrative work for our transcriptionists and ensures that reports, particularly the time-sensitive ones, are delivered promptly."
The new version has the added capability of notifying users with an error message that a file is too large to send. The error message is a red exclamation point over the Scribe Direct Icon in the icon tray and identifies the particular file in the log viewer. This improvement reduces bandwidth absorption from attempts to resend failed files while communicating the error so that users are immediately aware of the situation. Altering the file format to resend via Scribe Direct or manually uploading the file results in timely delivery to transcriptionists.
Additionally, the improved program stores duplicate sound files in a duplicate folder in the archives. Previously, sound files had always been automatically deleted if identified as duplicates. Now, dictators avert the need to re-dictate a file that mistakenly had the same name and can simply rename the dictation to resend saving time and frustration.
These new features are available through the latest release of Scribe Direct and requires the dictating user to have a Scribe account.
About Scribe Healthcare Technologies, Inc.
Scribe Healthcare Technologies is a privately-held, healthcare technology company based in the Chicago, IL area. The company has developed a proprietary "Cloud-based" platform that centers on medical documentation solutions to deliver physician narrated content to the electronic medical record. Scribe's platform includes complete solutions for dictation, transcription, voice recognition, document management, healthcare information exchange, and reporting with data analytics. Scribe offerings include both computer and mobile solutions.
Scribe serves more than 30,000 users. Business partners and resellers include consulting firms, transcription companies, and business process outsourcers. Additional information is available at http://www.scribe.com.
###