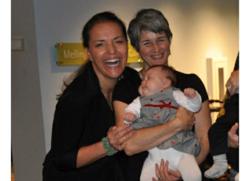 I look forward to this event. It is both humbling and awe-inspiring to see patients with little one's that our team helped bring into the world. Dr. Mark Leondires, Medical Director at RMACT
Norwalk, CT (PRWEB) November 07, 2011
Reproductive Medicine Associates of Connecticut (RMACT), Fairfield County's leading fertility clinic and egg donation center, hosted their fourth "baby party" at Stepping Stones Museum for Children in Norwalk, CT last night. The party celebrates the successful fertility treatment of over a thousand RMACT patients in Fairfield County during the past nine years. This was the first time that RMACT organized a Toys for Tots drive as part of the party; guests were encouraged to donate an unwrapped, unopened toy. Over 400 toys will be given to needy children in the area.
Over 1,400 invitations were sent to patients to celebrate with the staff of RMACT, which includes four board-certified fertility doctors, physicians assistants, embryologists, andrologists, nurses, medical assistants and patient care coordinators.
"I look forward to this event. It is both humbling and awe-inspiring to see patients with little one's that our team helped bring into the world," said Dr. Mark Leondires, Medical Director at RMACT. "This celebration – a family reunion, of sorts – gives us the opportunity to congratulate our patients and appreciate how fertility treatment is life changing and makes dreams come true."
For nearly 10 years RMACT has been striving to consistently improve fertility patients' experience by being increasingly convenient, supportive and having standout pregnancy rates. By offering flexible hours at multiple locations throughout Fairfield and Westchester counties, RMACT patients are able to undergo fertility treatment while still managing their work and daily lives. As part of these efforts, RMACT recently opened a location in downtown Stamford that is close to where many patients work and live. This location is also the home of RMACT's new Integrated Fertility and Wellness Center, which includes adjunct services such as Fertile Yoga, acupuncture, nutrition counseling and therapy.
Most importantly, at the heart of the practice is advanced medicine and skilled fertility treatment. RMACT's live birth rate for 2010 was 54% (98/181) for women under 35 years old who went through an in vitro fertilization (IVF) cycle; and 41% (45/110) for women ages 35 – 37 years old who went through an IVF cycle. The triplet rate in theses patients was less than 5%.
Patients describe the RMACT experience best; here is what they have to say:
Having selected RMA based on their technical and scientific expertise, we genuinely believe that their comprehensive approach to fertility provided the optimal environment in which we were able to conceive our beautiful baby girl. RMA found a way to balance the mind, body and soul by blending acupuncture, nutrition and yoga with a medical staff that is genuine and caring. For us, a family of two is a blessing and a family of three is a miracle. Thank you to everyone at RMA for helping us discover the joy of parenthood and for making such a difference in our lives. – Michelle Sztupkay, mother of Mikita, born in July 2011.
The team of doctors and nurses at RMA of CT is incredible! They were compassionate, took time to explain everything and helped us feel comfortable at every step. Without them, my husband and I wouldn't know the joy of our daughter and her sibling-to-be! - Lisa Cohen, mother of Madison, born in September 2008; Lisa is also pregnant with her second child through RMACT and is due in March 2012.
Hearing "unexplained infertility" was so frustrating… Dr. Leondires gave me hope – he really spoke to me. Being diagnosed [with polycystic ovary syndrome] meant that I could change things. – Kelly Pangis, mother of Ryan, born in October 2011.
About RMACT
Reproductive Medicine Associates of Connecticut (RMACT) specializes in the treatment of infertility. With Connecticut fertility clinics and egg donation offices in Norwalk, Danbury and Stamford, and affiliate New York fertility clinics serving Westchester, Putnam and Dutchess counties, our team of Board-Certified Reproductive Endocrinologists offer a wide range of infertility treatments from ovulation induction and intrauterine insemination (IUI) to the most advanced assisted reproductive technologies including in-vitro fertilization (IVF), egg donation and its own cutting-edge procedure called Comprehensive Chromosomal Screening (CCS), a form of preimplantation genetic diagnosis (PGD). RMACT offers individualized infertility treatment plans in a patient-focused and supportive environment. Support services, such as, psychological counseling, acupuncture and yoga are also available through RMACT Integrated Fertility & Wellness Program, as well as infertility treatment financing.
The RMACT team of fertility doctors includes Drs. Mark P. Leondires, Spencer S. Richlin, Joshua M. Hurwitz and Cynthia M. Murdock. All physicians are members of the American Society for Reproductive Medicine (ASRM), the Society for Assisted Reproductive Technology (SART) and the Fairfield County and Connecticut Medical Societies. RMACT's IVF laboratory is accredited by the College of American Pathologists (CAP), and CLIA; other accreditations include the Accreditation Association for Ambulatory Health Care (AAAHC) and the American Institute for Ultrasound in Medicine (AIUM). For more information visit http://www.RMACT.com.
###