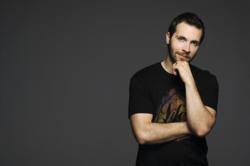 This is just the beginning. Donating $1,000,000 is just around the corner.
Los Angeles, CA (PRWEB) November 07, 2011
Startup company Sevenly, which donates seven dollars for every shirt it sells, has given over $100,000 to nonprofit organizations that are changing the world in its first five months of operations. Through their wildly successful seven day social media campaigns the company, founded by CEO Dale Partridge and CMO Aaron Chavez, has sold over 14,000 shirts and by this time next year expects to be a multi-million dollar co-profit enterprise.
"I'm am absolutely flabbergasted that we have hit this amazing milestone," said Partridge, 26. "If you had told me six months ago that we would be here already I would have been shocked, but at this point, it's so natural because of the amazing people that are supporting us. Honestly, I think Sevenly fans are one of the most powerful tribes on Facebook! They share often and they're passionate. I think they are just as excited as we are to be involved in something that is so epic."
In just six short months Partridge and Chavez have taken their idea from an initial concept to a profitable business venture and others are taking notice. Sevenly recently had its first matching donor sign on to participate for a weekly campaign raising $14 per tee, and social media giant Mashable.com wrote an article titled, "Is Sevenly The Next TOMS Shoes."
"Sevenly is indeed on a path of success that could surpass that of social good company TOMS Shoes," says social good venture capitalist Jim Van Eerden. "TOMS shoes sold approximately 10,000 pairs of shoes in their first year of business. Sevenly is on track to do over 35,000 shirts in its first year. Numbers don't lie, this is something that people want, and Sevenly does it better than anyone else we've seen," continues Van Eerden.
While the TOMS mantra is focused on 'one for one,' the Sevenly model takes that concept and multiplies it – by seven. Each shirt is custom designed and is sold for only seven days, for every shirt sold Sevenly donates seven dollars to a nonprofit organization focused on a certain cause (e.g. clean water, anti-human trafficking, etc. )
They not only assist these nonprofits with funds, but they also help raise massive awareness for the charities through the company's ever-growing social media network. In just seven days Partridge and his team expose each campaign to an estimated 15 million people through Facebook, Twitter, YouTube and other social media sites.
For Partridge, the sky is the limit and he has barely hit the tip of the iceberg for all the opportunities that lie ahead for Sevenly. Various upgrades and new features are in the works and will roll out in coming months including an expanded product line, individual user accounts and a voting platform for Sevenly customers to voice their opinions for their favorite designs.
"Our success is a blessing," added Partridge. "It is also a result of the effort and hard work put forth every single day by our team. They are dedicated and committed to what we are doing. We all feel good about it because at the end of the day we feel like every shirt sale is changing someone's life and making the world a better place."
Sevenly is a co-profit company founded in June 2011 to raise capital and awareness for the world's greatest causes. Each week Sevenly partners with one qualified nonprofit to sell a shirt specifically designed for that week's campaign, with seven dollars from each shirt sale going to the charity. Run by CEO Dale Partridge, the company's goal is to provide support to charities through increased awareness, funding and following. To learn more about Sevenly visit http://www.Sevenly.org.
###