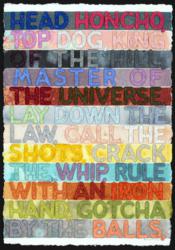 Aspen, Colorado (PRWEB) November 07, 2011
Mel Bochner, a celebrated Conceptual artist who rose to acclaim during the 1960s, will be exhibiting a number of his artworks at the National Gallery of Art in Washington, D.C. at the end of this year. As a gallery representing such a renowned Conceptual artist as Bochner, Galerie Maximillian (located in Aspen, Colorado) is very excited to announce Bochner's exhibition at the National Gallery in conjunction with a new collection of Bochner's language-based work for sale in the gallery.
During his artistic career, Bochner has inspected hidden and subtle nuances behind language, both formal and colloquial. The exhibition at the National Gallery is slated to include new and past artwork as well as 43 of Bochner's thesaurus-inspired paintings and drawings created throughout his career.
The basis for his "Thesarus" series is rooted in how we use words, how we perceive humor and interpret language. Drawn from Roger's Thesaurus, a linguistic reference work that has long been an important resource and Bochner's constant companion, the work consist of lists of synonyms and words of similar meaning organized in parallel lines of text. Each section begins with a generic word and the list develops in crescendo through a number of synonyms ending with the most familiar or even vulgar term, creating a surprise finish.
Also on display will be Bochner's Portraits series from the 1960s. The Bochner exhibition is part of the In the Tower series at the National Gallery, which is a series of exhibitions examining evolutions in the art world since the mid-century. Mel Bochner's exhibition will open on November 6, 2011 and run through April 8, 2012 at the National Gallery of Art in Washington, D.C.
Galerie Maximillian is an Aspen art gallery and is located at 602 East Cooper Avenue. Our friendly, knowledgeable team of art consultants has over 40 years of experience in the fine art market. The gallery is open Monday-Saturday from 10:00am until 8:00pm, and Sundays from 11:00am until 7:00pm.
# # #