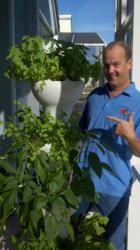 (PRWEB) November 08, 2011
FeedOurPlanet.Com Inc.'s revolutionary vertical growing system is now available with automatic feeding of water and nutrients via a pump and timer.
"Our vertical food growing system is very flexible already, but many customers are demanding automation of the feeding of the water and nutrient solution", says Peter Michie, President of FeedOurPlanet.Com Inc. "Thus we are please to announce our FOODY5 Auto, a modified FOODY5 with a pump and timer".
Standing 5 feet high, FOODY5s are vertical towers consisting of a reservoir and 4 additional growing pods to give the total of 38 growing points in less than two square feet. The reservoir holds excess water and has room for 6 plants. Each disk has 8 dedicated spaces for plants.
Plants can be grown in these towers two ways: traditionally, using a modified top-soil mixture or hydroponically, using an inert growing medium; and plants can now be watered and fed automatically.
###