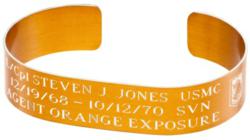 $2.00 of every item sold on the website from September 12th to the end of 2011 will be donated to the Injured Marine Semper Fi Fund.
Novi, MI (PRWEB) November 08, 2011
Inspired by military historian, John Siegfried's new book, Six Degrees of the Bracelet: Vietnam's Continuing Grip, Memorial Bracelets is now offering orange custom engraved bracelets to honor soldiers that have been disabled fighting for our country at http://www.memorialbracelets.com/template.php?pid=105.
Six Degrees of the Bracelet: Vietnam's Continuing Grip presents a raw, honest and compelling view into the lives of a number of men and women affected by the Vietnam War. "I decided to write the book when I discovered the POW/MIA Bracelet for returnee Lt Col Myron Donald that my mother-in-law wore for 20 years," said the author, John Siegfried. "I suggested the orange bracelet because I thought that it would be a good way to honor the soldiers affected by the use of the defoliant code named Agent Orange during the Vietnam War and others affected by modern combat ailments such as Post Traumatic Stress Disorder or PTSD," Siegfried added.
Since the start of the wars in Iraq and Afghanistan, there have been over 6,250 U.S. casualties, and over 45,000 soldiers wounded. People wear black bracelets for those killed in action. To generate awareness of and show support for the wounded, the new orange bracelets can be custom engraved with up to 3 lines of 30 characters for $17.99 each. "To help service disabled veterans, Memorial Bracelets will be donating $2.00 of every bracelet and dog tag sold from September 12th to the end of the year to the Injured Marine Semper Fi Fund," said Rob Tacy, President of Memorial Bracelets. "We wanted to support the mission of this group to provide immediate financial support to injured and critically ill members of the U.S. Armed Forces," Tacy added.
About Memorial Bracelets
In October of 2001, Rob Tacy originated the idea of the Memorial Bracelet, and revitalized the idea of wearing a bracelet engraved with someone's name to support a cause. Since its inception, Memorial Bracelets has donated over $120,000 from purchases made on the http://www.memorialbracelets.com web site to charities supporting the families of victims of terrorism and those of Vietnam POWs and MIAs, and U.S. soldiers wounded or fallen in Iraq and Afghanistan. To read hundreds of stories about why Americans are wearing Memorial Bracelets to honor the memory of a fallen soldier or lost loved one, please visit the Why Wear blog located at http://www.whywear.com or their Facebook page at http://www.facebook.com/pages/Memorial-Bracelets/41860155912.
About John Siegfried
John Siegfried is a military historian who has spoken at veterans organizations, universities and high schools throughout the country. Six Degrees of the Bracelet: Vietnam's Continuing Grip, is his first book. To write it, he spent over a year interviewing Vietnam War veterans across the United States. After its official release on Veterans Day of 2011, he will be donating books at various hospitals throughout the country that currently care for soldiers wounded in Afghanistan and Iraq, and he will be contributing 20% of the revenue from the sale of the book to various organizations serving Vietnam as well as current day veterans. The book is currently available for purchase online at http://www.Amazon.com in hardback for $29.95, paperback for $19.95, and as an E-book for $3.99. To learn more, please visit his website at http://www.johnsiegfried.com.
###