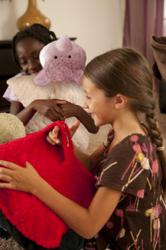 San Diego, Calif. (PRWEB) November 07, 2011
Increase snuggle time and encourage sweet dreams with the newest must-have accessories for kids' favorite plush companions, offered by SnuggleTime(TM). Petjamas(TM), a combination slipcover, outfit and carrier, and Snugglebags(TM), a two-in-one mini sleeping bag, are designed to keep plush pillow toys and other stuffed "friends" snuggly and clean throughout children's daily activities and other big adventures.
"Each of our products is designed to be fun for children but practical for parents," said SnuggleTime founder Vickie Beuerle. "At SnuggleTime, we know how attached children become to their stuffed toys and want to take them everywhere. Unfortunately, 'everywhere' means taking them in the bathroom, dragging them along the floor or lugging them through the airport. We wanted to create affordable, 'gotta-have' accessories that allow children's plush companions to stay clean, soft and cuddly—whether at home or on the move."
Petjamas
Designed to fit standard-shaped, 18-inch Pillow Pets(TM) as well as other stuffed toys, Petjamas are interchangeable, durable and easy to clean. These soft covers function as pillowcases, fun clothing or helpful carrying cases with grab-and-go handles and pockets for storing important belongings. Available in three different fabrics—Fluffy, Knobby and Quilty—Petjamas come in a variety of fun colors such as Banana Creme Squeeze, Chocolate Cuddle Cake, Plush Plum Purple, Squishalicious Pear, Blueberry Muffin, Pink Princess Plush, Strawberry Shortcake, and Black Licorice Twist.
Snugglebags
Snugglebags act as perfect slipcovers for children's favorite stuffed toys and comfortably fit a variety of shapes and sizes, including Pillow PetsTM. Available in Midnight Snack (blue and orange) or Dreamsicle (pink and purple), Snugglebags are cushy and convertible, keeping plush toys ultra clean and cozy for bedtime stories or slumber parties.
Recommended for ages 3 and up, both Petjamas and Snugglebags are available online in the SnuggleTime store at http://www.snuggletimetoys.com just in time for holiday gift-giving. Petjamas retail for $9.99 and Snugglebags for $12.99.
About SnuggleTimeTM
SnuggleTimeTM is a San Diego-based, woman-owned business offering the newest accessories designed specifically for plush pillow toys and other stuffed animals. The company's marquee products, PetjamasTM and SnugglebagsTM combine fun, ingenuity and practicality into today's must-have accessories for stuffed toys. SnuggleTime's creative and affordable products allow children to carry their favorite plush companions wherever the day takes them while giving parents the extra added benefit of knowing their little ones will enjoy a sound, comfortable and safe night's sleep. For more information on SnuggleTime, please visit http://www.snuggletimetoys.com.
###