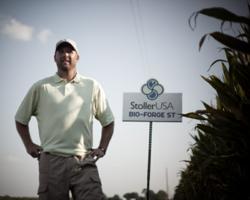 We know our technology will stand up to the challenge.
Villa Grove, Illinois (PRWEB) November 08, 2011
StollerUSA's Bio-Forge prevailed through a regional "TEST THE BEST" grower challenge that took place in the Illinois Corn Belt. "We're encouraged when we see progressive farmers ready to take that next step in exploring production potential," shared StollerUSA's General Manager Dr. Wayne Smith. "We know our technology will stand up to the challenge plus it gives more farmers exposure to Stoller technology and why it works."
The challenge started out as a friendly competition among progressive growers in Central Illinois. The rules were simple. Start with a select corn hybrid and implement new practices to reach 300 bu/acre or better yields. Participants tested new inputs and experimented with the application rates and timings of other accepted products. The result was "years" of trial and test experiences rolled into one year…revealing new technologies that performed.
One of the new crop management practices tested by Jason and Adam Watson of Watson Farms in Villa Grove Illinois was the use of Stoller Technology. Specifically Bio-Forge ST seed treatment and Bio-Forge with foliar fungicide applications were proven to enhanced yields.
"When we decided to take on the "Test the Best" challenge the research I did on Stoller Technology jumped out at me," explains Jason Watson. "I wanted a way to preserve the seed's genetic potential. And the stress management attributes of Bio-Forge made sense."
As it turns out 2011 was a very stressful year for Central Illinois farmers. A cold and wet spring meant farmers were late getting the crops planted. The damp spring was followed by extremely hot and dry pollinating conditions. "I guess if you were going to test a stress management product, 2011 was a good year to do it." shared Jason Watson.
The difference in corn plants treated with Stoller technology was visually apparent. The treated plants were healthier and greener—even during the peak of drought conditions. Closer inspection revealed better ear placement higher on the stalk where sunlight is more readily available for enhanced photosynthesis. More importantly Watson's trials using Stoller technology revealed a consistent yield boost of at 10 bu/acre over the untreated plots.
In addition to using Stoller technology on corn plots, the Watson's employed a complete Stoller program on their soybean crop. Watsons saw a 5-15 bu/acre soybean yield boost using the Stoller program—including Bio-Forge ST seed treatment, Bio-Forge and X-Tra Power foliar applications followed by Sugar Mover to enhance pod fill. "The county soybean average is somewhere around 53 bu/acre. We expect more out of our crops," explains Adam Watson. "It's not about how much something costs…it's about how much can we make. Stoller products offer a tremendous return."
StollerUSA is dedicated to helping producers enhance yields by maximizing genetic expression. The result is enhanced marketable yield, improved return-on-investment and improved tolerance to disease and other stress. Only Stoller products contain Stoller's proprietary technology that is proven to ensure optimum plant growth by maintaining appropriate hormone balance in combination with supporting nutrients. Validated by Universities nationwide, Stoller's unique formulations result in healthier, more productive crops that are better able to withstand stress and achieve their full genetic potential.
About StollerUSA
Celebrating over 40 years in agribusiness, StollerUSA markets a full line of products to help farmers increase crop yield and quality. StollerUSA, headquartered in Houston, is actively engaged in basic and practical research to enhance crop productivity in more than 50 countries.
###