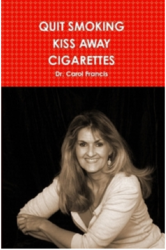 Smoking is a deeply
integrated habit for most. This makes it quite hard to stop smoking.
Los Angeles Area, CA (PRWEB) November 08, 2011
Millions die, contract cancer or suffer cardiovascular or respiratory difficulties because of one simple act: smoking cigarettes. If smoking is so severely debilitating, why do people indulge in this deadly habit? American Cancer Society wishes to help provide motivation to quit.
"Smoking becomes a deeply integrated habit because so many systems of the human body, emotions and routines become dependent on cigarettes," explains Dr. Carol Francis who is a Clinical Psychologist and Certified Nutrition Counselor.
Dr. Carol Francis and hypnotherapist Mary O'Maley rallied their community retailers to place trash cans outside their stores and give a token reward to people who threw their cartons away on the American Cancer Society's stop smoking day, always the third Thursday in November. This year they will do the same, and encourage retailers all over the US to support their customers' healthy choices.
To help people stop smoking, Dr. Carol Francis, Psychologist and Hypnotherapist, will offer smokers a low-cost download, ebook, or purchase of her booklet "Quit Smoking Kiss Away Those Cigarettes" along with access to her hypnotherapy videos which have helped tens of thousands of smokers around the world successfully quit smoking since 2004.
Some tips Dr. Carol Francis offers include, "Simultaneously, implement no less than 5 effective tools to help you quit smoking. For example you might simultaneously do all of the following one week before you plan to stop smoking: 1) Gain family support. 2) Address your physiological addiction to the cigarettes chemicals by increasing certain vitamins, hydration, minerals and exercise. 3) Plan changing the routes home and shopping patterns so you no longer go to the places where you buy cigarettes. 4) Plan enjoyable activities during the exact same times you usually smoke such as after dinner, while drinking alcohol, or after sex. 5) Harness your mind's power by using some hypnosis tapes, videos or self-hypnosis tricks which you can access such as my videos on YouTube.com/drcarolfrancis.com."
Downloads of Dr. Carol Francis's book "Quit Smoking Kiss Away Those Cigarettes" are available through ibookstore's itunes or DrCarolFrancis.com or lookup this site http://itunes.apple.com/us/book/quit-smoking-kiss-away-those/id453045271?mt=11. Access video assistance at YouTube.com/drcarolfrancis.
Be free and healthy as holidays approach, quit smoking successfully.
###