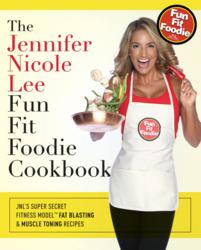 When asked what the future holds for the Fun Fit Foodie brand, Jennifer replies "We defiantly will branch out into kitchen and cooking appliances as well as major food brands.
New York, NY (PRWEB) November 07, 2011
Jennifer Nicole Lee is an internationally known wellness guru, motivating millions with her weight loss success story. Now with two bestselling books under her apron, she releases her first cook book "The Fun Fit Foodie". Jennifer was frustrated by the typical healthy diet cookbooks on the market which promoted boring tasteless "card board" food, which for the most part resembled the same boring dishes, such as boiled chicken and broccoli or oatmeal and eggs. With a passion for all things healthy, JNL set out on a mission to create the most tantalizing gourmet fit foodie cookbook. Her original dishes are full of flavor, exotic spices, and interesting combinations. She is truly breaking the rules of healthy cooking.
The food industry is taking notice. JNL quotes, "We have had major interest from the big name food brands, who are seeking to link their own food brands to the Fun Fit Foodie brand. Being a mom, a wife, and a weight loss success story real every day women can relate to me, and the mega food brands see this. My voice represents the voice the hard working wives, and mothers who want more out of their food and meals for their family and friends."
JNL's media production team JNL World Wide Media Productions produced the Fun Fit Foodie TV series, which is also getting many key players in the food and gourmet fields to raise their eyebrows. With 12 complete Fun Fit Foodie Episodes that are all entertaining, enlightening, and also educational without making anyone feel bad about their current food choices, JNL shows the world she is bringing fit and sexy back to the kitchen.
When asked what the future holds for the Fun Fit Foodie brand, Jennifer replies, "We defiantly will branch out into kitchen and cooking appliances. My offices have had several cooking appliance companies approach us and show us current cooking accessories, utensils, and cook ware that make cooking healthier, more fun and easier. If George Forman can do it with the Foreman Grill, the Fun Fit Foodie brand can do it too. We look forward to getting these products into our fellow fun fit foodie's hands."
For more info, please visit http://www.TheFunFitFoodie.tv
###