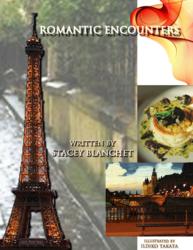 You have to be willing to be in the moment and show up when it counts!
Los Angeles, CA (PRWEB) November 07, 2011
Newcomer Stacey Blanchet helps light the spark even brighter for those in brand new relationships, as well as those who have been together for years, in Romantic Encounters ($20, ebook), a collection of romantic tips and suggestions.
Blanchet started compiling Romantic Encounters in her twenties, while looking for ways to spice up her own relationship. After many of her friends started requesting ideas to try out in their own relationships, Blanchet knew that a best-seller was in the making. The inspiring words throughout Romantic Encounters are brought to life with illustrations by Ildiko Takata.
When asked what her views are on nurturing a relationship that will last, Blanchet offers this advice, "You have to be willing to be in the moment and show up when it counts!" So, whether you choose to go with rose petals or moonlight, Romantic Encounters will have something new and exciting to add to your relationship.
Romantic Encounters is currently available for digital purchase on http://www.blanchetdesigns.com, Amazon, and Barnes and Noble. For more information or to book interview time with Stacey Blanchet, please contact Brittany Cereghino or Susan Cereghino of Spotlight Entertainment, Inc., at (818) 660-5594 or press@SpotlightEt.com.
ISBN 978-1-937129-18-7
Distribution By: E-dentity Design
###