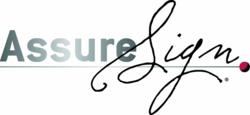 Orlando, Fla. (PRWEB) November 07, 2011
AssureSign LLC, a leader in electronic signature software, today announced it will be a gold sponsor of E-Signatures 2011: Electronic Signature and Records Conference, to be held November 9 and 10, at the Four Points by Sheraton in Washington, DC.
E-Signatures 2011 is the 5th annual conference of the Electronic Signature and Records Association (ESRA) whose board members include AssureSign president and chief executive officer, David Brinkman. The conference is a gathering of e-signature vendors and users, and will include presentations regarding legal and regulatory issues surrounding electronic signatures, industry policy perspectives, adoption and trends, and standards initiatives.
Additionally, international representatives from various industries including financial services, insurance, banking, sales and service, healthcare and government services will present case studies of their corporate implementations. One such presentation will be delivered by an AssureSign partner who chose AssureSign as the electronic signature software provider for its leading global enterprise document management solution.
"Electronic signatures are quickly becoming the standard for conducting business," said Brinkman. "We are excited to learn that businesses are recognizing the importance of electronic signatures and are glad to be a part of an organization focused on promoting awareness of electronic signatures."
About ESRA
The Electronic Signature and Records Association (ESRA) is an important initiative focusing on eSignatrues and electronic records. The ESRA members represent a prestigious group of corporations, both technology providers and "user" companies offering technology applications to their customers. Education and public policy are the foundation of the mission of ESRA. The association is a centralized educational resource for its members and the public with respect to the legal, regulatory and operational issues in relation to the use of electronic signatures and records.
About AssureSign LLC
AssureSign LLC is a leading provider of web-based and on-premise electronic signature software, enabling users to obtain both written and verbal authorizations. AssureSign provides the most integrated and feature-rich APIs available and features a unique, patent-pending technology allowing for the execution of any document with forensically identifiable, biometric signatures or typed 'certified' signatures. AssureSign is a highly secure and flexible "cloud computing" application, and the only e-signature provider with a four year track record of providing customers with 99.99% uptime in a multi-site data center with SAS 70 Type II certification extending to all aspects of the enterprise. Using the standards-based DocumentNOW® and DocumentTRAK™ integration tools, AssureSign can easily integrate with existing business processes within any enterprise, regardless of size. AssureSign's experience extends over 11 years and comprises more than 100 million unique signature events. AssureSign customers consistently experience dramatic cost savings, as well as significant reduction in the time to execute documents. For more information visit http://www.assuresign.com or follow AssureSign on Twitter at http://www.twitter.com/assuresign.
###