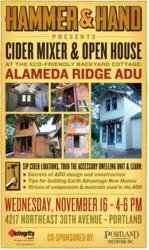 This open house will be a chance for people to learn about ADUs, see cutting-edge green building techniques first-hand," said Sam Hagerman of Hammer & Hand, "and talk with the project team about lessons learned,
Portland, Oregon (PRWEB) November 07, 2011
Hammer & Hand will present a free Cider Mixer and Open House at its newly constructed accessory dwelling unit, the Alameda Ridge ADU, on Wednesday, November 16 (2011), 4-6pm (4217 Northeast 30th Avenue, Portland, Oregon). This soon-to-be-certified Earth Advantage New Home combines modest size with excellent energy performance and ecologically-sound construction for a truly "small footprint". (http://hammerandhand.com/announcements/eco-accessory-dwelling-unit-open-house)
Accessory dwelling units, also known as backyard cottages, granny flats, mother-in-law apartments, or simply ADUs, are secondary living units built on residential lots. Fully self-contained, they can be attic or basement conversions, attached additions, or detached structures. In Portland, they must be 800 SF or less in size.
"Your typical accessory dwelling unit is inherently 'eco-friendly' because it's small and embedded in an existing neighborhood, usually with easy, walkable access to parks, schools, shops and transit," said Sam Hagerman, owner of green builder Hammer & Hand. "Now if you take the size and location of that typical ADU and make it extremely efficient, then you can create something special – a sustainable home."
Before World War II, ADUs were common in US cities. They offered flexibility for intergenerational households and an affordable housing option for people who could not afford a larger house. But with the societal shift toward low-density sprawl and segregated land uses after WWII, ADUs fell out of favor and were outlawed in most American cities.
Today, accessory dwelling units are experiencing a renaissance, perhaps nowhere more so than here. Portland was among the first cities in the US to encourage ADU development, and just last year the City placed a moratorium on system development charges for ADUs, shaving off as much as $15,000 from the cost of developing one. A mini boom in ADU permitting and construction has followed.
The Alameda Ridge ADU is part of this Portland building trend – doubly so as it seeks Platinum certification from Portland-based Earth Advantage Institute.
"Green building is about more than the latest bamboo flooring product," said Hagerman. "Use of sustainable materials is certainly important, but so is the energy performance of the structure you're creating, and it's durability. Our building scientists carefully modeled the Alameda Ridge ADU to optimize the architect's design and then our career carpenters set to work, using quality components to build the place to last."
The Cider Mixer and Open House will showcase key features of the Alameda Ridge ADU's construction, including:
1. Thermally-broken insulated slab. The ADU's foundation is built on top of 4 inches of EPS geofoam.
2. Liquid-applied air barrier. A vapor permeable, weather resistant air barrier forms a continuous layer on exterior sheathing through into all window and door openings.
3. High performance insulation. High-density cellulose, low-density spray foam, and polyiso foam contribute to the structure's superinsulated envelope.
4. Ductless mini-split. A high-efficiency Mistubishi inverter heat pump system heats the ADU.
5. Integrity and Marvin windows and doors. This high-quality millwork provides beauty and durability that also performed well in the project's airtightness testing.
6. Extensive testing. The team performed the requisite Earth Advantage and Energy Star testing, plus extra Hammer & Hand testing using theatrical fog and a blower door fan to verify the performance of the air barrier.
"This open house will be a chance for people to learn about ADUs, see cutting-edge green building techniques first-hand, and talk with the project team about lessons learned," said Hagerman. "We hope you'll come join us on November 16!"
Event details, as well as more information about accessory dwelling units by Hammer & Hand, can be found on the web at: http://hammerandhand.com/accessory-dwelling
About Hammer & Hand
HAMMER & HAND
Hammer & Hand is dedicated to stewardship of the built environment through craft and science, everything from fine remodels to accessory dwelling units to high performance Passive House structures. Based in Portland, Oregon, the remodeler and builder can be reached at http://hammerandhand.com or by phone at 503-232-2447.
About Co-Sponsors, Integrity by Marvin Windows and Portland Millwork
INTEGRITY
Integrity from Marvin Windows and Doors is the world's largest and most experienced manufacturer of windows and doors made with Ultrex – a state-of-the-art pultruded fiberglass material. Based in Fargo, N.D., Integrity offers a comprehensive line of window and door products that are Built to perform® and backed by first-class customer service. For more information regarding Marvin or Integrity products please contact Reeb Millwork, the exclusive distributor of these quality products, at 1-800-523-9787.
PORTLAND MILLWORK
Portland Millwork is an award-winning distributor of windows, doors and millwork. Providing high quality products and nationally recognized customer service to the residential professional community since 1997, Portland Millwork invites you to visit its 40,000 ft facility and showrooms. Contact Portland Millwork via http://www.portlandmillwork.com or 503-612-6828.
###