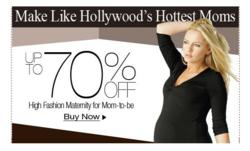 HongKong (PRWEB) November 16, 2011
DinoDirect understands that while pregnancy can be one of the most beautiful times in a woman's life, it can be an extremely difficult time as well. One of the most common problems pregnant women encounter is finding fashionable outfits to wear as their pregnancy progresses. DinoDirect hopes to help pregnant women stay chic and trendy by offering special offers on stylish mom-to-be outfits this fall.
DinoDirect's store manager aired his opinion by stating "just because your favorite outfits can't fit you anymore, there's no need to endure nine months of frump!" True to this statement, celebrities are the epitome of fashion and most of the True to this statement, celebrities are the epitome of fashion and most of the well-known pregnant celebrities have managed to stay fashionable throughout their pregnancies.
The first thing people need to know about maternity dresses is that there are chic and affordable ones available in the market. Most women give up on finding stylish and affordable dresses, after visiting a few mom-to-be stores and encountering the staggeringly high prices that the chic outfits retail for. "Our goal is to provide you with the best service and price you can find anywhere for all the awesome items you need," the store's manager explained about their current ongoing sale on women's maternity outfits.
Pregnant women are often limited to a few less-than-pleasing outfits to choose from, but at DinoDirect there are wide selections of complete outfits and individual articles of clothing to choose from; specifically tailored for moms-to-be.
Most stores which stock outfits for pregnant women forget about important articles of clothing such as maternity sweaters and the maternity coat. Women need these items because usually pregnant women will carry their pregnancies through the cold seasons. Nine months essentially covers the better part of a year, and just like people all need befitting outfits for the different seasons of the year, pregnant women also require seasonal outfits. The store provides great selections of cold weather outwear garments for pregnant women.
Some of the other articles of clothing which give pregnant women headaches when shopping are maternity pants and maternity jeans. It is especially difficult to find trendy jeans that fit well, specifically tailored for pregnant women. The online retailer offers selections of jeans, casual and work pants suited for the fashion inclined mom-to-be.
The online store has addressed two common problems which pregnant women face; finding stylish outfits and buying these outfits at affordable prices. During this promotional period, women can buy the chic maternity outfits at an additional 20% discounts. All the store's maternity outfits carry up to 70 % discounts, but the additional discount will be available for a limited period. Therefore, this is the right time to stock-up on trendy Hollywood inspired maternity outfits.
###