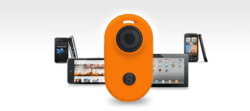 Gmate will soon support various Android smartphones and pads, therefore covering more than 70% of existing communication devices in the market today worldwide.
Sunnyvale, CA (PRWEB) November 08, 2011
Apple users often experience the "if-only" scenario: If only the iPod Touch comes with voice/sms features; if only all iPads come with 3G option (but without another 3G contract); if only the iPhone supports dual-SIM, and so on. To answer such dilemma, Skyroam (http://www.skyroam.com), an emerging wireless company, introduces the Skyroam Gmate Transformer as the single solution.
The Gmate Transformer is a small, lightweight device where one can insert any SIM card, and route all voice/sms/Internet to the Apple device via Bluetooth. With Gmate, one can now use iPod Touch as an ultra-thin smartphone, making and receiving calls/sms or surf the net anywhere; Apple users can use the iPad to get on Internet anywhere, anytime without another expensive 3G contract; or enjoy dual-SIM feature on the iPhone, especially needed while traveling from country to country without expensive roaming charges.
Simply put:
1. iPhone + Gmate = Dual SIM iPhone
2. iTouch + Gmate = iPhone
3. iPad + Gmate = iPad with Internet/voice/sms
Since Gmate is a standalone device that communicates with the iOS device via Bluetooth, one can keep it hidden in one's pocket or bag rendering it "invisible", while keeping the iOS device free of any physical attachments. In addition, Gmate will soon supports various Android smartphones and pads, therefore covering more than 70% of existing communication devices in the market today worldwide.
"Gmate has much more potential than just a fun accessory for the iTouch," says Jing Liu, CEO and Founder of Skyroam, "It's also very useful for business travelers, who often switches between SIM cards when travelling internationally." Since launching in early September 2011, initial market reaction is extremely positive; Paul Chang, Vice President of THL Mobile said: "Our customers from major retailers around the world are excited about Gmate and has been very successful at selling to Apple and Android users. As a major distributor of Gmate, we are excited to work with Skyroam to service the smartphone community."
About Skyroam
Skyroam was founded in 2009 in Silicon Valley backed by leading Venture Capitals and experienced angel investors. As a global provider of wireless technology products and solutions, Skyroam specialize in developing products and services in the following areas: mobile terminals, wireless communication product and services, mobile broadband, mobile internet applications, and mobile back-end systems. Headquartered in Silicon Valley, Skyroam have local offices in Beijing, Shenzhen, and Taipei.
If you'd like more information about this topic, or to schedule an interview with Skyroam, please call 1-408-757-0883 or email press(at)skyroam(dot)com.
# # #