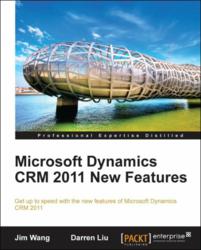 Birmingham, UK (PRWEB) November 07, 2011
Packt Publishing is pleased to announce the publication of Microsoft Dynamics CRM 2011 New Features, a book and eBook for CRM professionals looking to get up to speed quickly and effectively with Microsoft Dynamics CRM 2011.
Microsoft Dynamics CRM 2011 offers exciting new features that enable professionals to build and maintain a robust customer relationship management system in their organisations. The book is a one stop resource to get to grips with all the new features of Dynamics CRM 2011, and learning is focused around the building of an Airline Compensation Management (ACM) system using Dynamics CRM 2011.
The book starts by setting up the development environment, then building a structural architecture for the ACM system. Later sections revolve around data imports, validation, automation, charts, dashboards, customization and much more. Full book details can be found on the Packt website. The book is available in print, eBook and selected library formats and can be purchased from Packt and other leading book retailers.
Packt is committed to supporting the learning needs of Microsoft Dynamics professionals, and has become one of the world's leading information providers on Microsoft Dynamics software. In recent times, the company has published books on:

Microsoft Dynamics NAV 2009: Professional Reporting
Microsoft Dynamics AX 2009 Administration
Microsoft Dynamics Sure Step 2010
Microsoft Dynamics GP 2010 Reporting
Microsoft Dynamics GP 2010 Implementation
More than 15 titles are listed on the Packt Microsoft Dynamics Books page.
About Packt. Packt is a modern, unique publishing company with a focus on producing cutting-edge books for communities of developers, administrators, architects and end users alike.
###