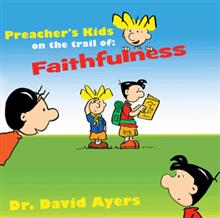 SEVIERVILLE, Tenn. (PRWEB) November 08, 2011
The comic strip "Preacher's Kids" appeared in March 2001 in a local newspaper in Sevier County, Tennessee. The strip has remained active over the years, connecting with the Baptist Press, national and international newspapers, churches, ministry projects, educational materials and more. With the publication of "Preacher's Kids on the Trail of: Faithfulness" (published by WestBow Press) Dr. David Ayers, creator of the "Preacher's Kids" comic strip, brings the characters together for their first book appearance.
Aaron and John David – the Preacher's Kids – are on a journey to find the meaning of faithfulness. They postulate that being faithful is a choice. But they are faced with their own tough choices, and they must choose wisely as they get ready to celebrate Aaron's birthday. "I was still in shock that Dad bought me the jersey for being faithful. Then I realized that Dad was right, faithfulness is not forgotten. God remembers our good deeds just like Dad did and rewards us because He loves us."
The overall theme of the book, the author says, is "… to remind readers about one of the most vital keys to spiritual success: being faithful." He goes on to say, "'Preacher's Kids on the Trail of: Faithfulness' contains a positive spiritual message and encourages readers to continue in faith even when life is challenging."
The ministry of "Preacher's Kids" comics has been blessed with opportunities to bring a smile, a chuckle and a reminder that pleasing Christ means approaching Him with childlike faith.
About the Author
Dr. David Ayers resides in east Tennessee with his wife, Tammy, and his two sons, Aaron and John David, who continue to give him inspiration for the strip. He also pastors a local church and claims the title "cartoon evangelist" as an honored position. With 18 years of experience in the pastorate, he is uniquely qualified to create such a pastoral comic strip.
WestBow Press is a strategic self-publishing alliance of Thomas Nelson, the world's premier Christian publisher, and Author Solutions, Inc. (ASI)—the world leader in the fastest-growing segment of publishing. Through this partnership, authors benefit from the rich publishing heritage of Thomas Nelson and the speed-to-market advantages of the ASI self-publishing model. Titles published through WestBow Press will be evaluated for sales potential and considered for publication under the Thomas Nelson imprint. For more information, or to start publishing today, visit westbowpress.com or call 866-928-1240.
###