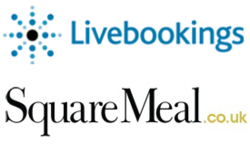 (PRWEB UK) 7 November 2011
Livebookings, the European leader in real-time reservations and online marketing services for restaurants, has partnered with Square Meal, Britain's leading independent online and printed restaurant guide, to expand enormously the number of restaurants that are bookable online on squaremeal.co.uk.
By using Livebookings' cloud based technology, Square Meal, which offers users in-depth reviews and analysis of restaurants around the UK, is able to offer its customers a huge number of bookable restaurants – with instant confirmation - via its website. Livebookings' technology integrates seamlessly with the Square Meal website; feeding bookings directly into the restaurants' cloud based management system.
Speaking of the collaboration, Simon White, MD of Square Meal, commented; "The decision to partner with Livebookings was an easy one. With its industry leading technology and inventory of over 4,000 UK restaurants, we've been able to expand our own offering and bring new benefits to our users. We're delighted to offer those users that prefer booking online to the telephone an increased number of restaurants that have this functionality."
Robert Swerling, Chief Commercial Officer, Livebookings commented; "It's exciting to be working with one of the UK's most influential restaurant guides. Resources like Square Meal shape opinion on restaurants and drive custom through reviews and word of mouth. The shift towards online reservations will not only enhance the user experience, it will help drive traffic to the site and business across its partner network".
About Livebookings
Livebookings makes restaurants and diners click. We operate the world's only global, web-based restaurant reservations and marketing service, delivering over one million diners every month to over 9,000 restaurants including Gordon Ramsay Holdings, Tantris, East, Grill and Aquavit. Our reservations tools enable restaurants to provide their diners with a free, easy-to-use online bookings service, to manage those reservations efficiently and to collect valuable customer data. Our marketing services ensure restaurants can run promotions and deals and execute online marketing campaigns to attract and retain their customers.
Our consumer restaurant reservations website, Bookatable.com, is Europe's fastest growing online restaurant booking website, operating in 9 different languages and across 19 countries. It supports our unparalleled network of 300 distribution partners, including lastminute.com, Salir.com, Ticketmaster and Eniro.se, to ensure we can spread news of deals far and wide and help our restaurant customers attract new business.
Headquartered in London, with offices across Europe and the USA and customers in 23 countries, Livebookings is the largest online reservations provider in Europe, focused on making restaurants more profitable and dining out more pleasurable.
About Square Meal
For the past 21 years Square Meal has been the market-leading independent restaurant guide, with up-to-date reviews of 5,000 London and UK restaurants and bars, written by a team of independent critics with the aid of thousands of comments by restaurant customers.
The Square Meal audience is the best community of high-spend restaurant-goers in the UK. With its print, mobile and online platforms, we believe, Square Meal is the major provider of à la carte restaurant bookings in the UK.
For further info please contact Judy Elvey, Acting Marketing & Events Manager;
Judy(at)squaremeal(dot)co(dot)uk
Tel: 020 7840 6269
###