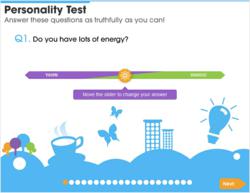 22% of visitors who took their interactive careers Personality Test being revealed as 'Go-Getters'
(PRWEB) November 07, 2011
UKSP, the leading information site for careers in the hospitality, leisure, travel and tourism (HLTT) industry, uncovered an exciting wealth of future leadership stars at this year's WorldSkills event - with 22% of visitors who took their interactive careers Personality Test being revealed as 'Go-Getters'.
The test, which is also available to take online at http://uksp.co.uk/Career-Choices/Personality-Test, reveals participants' personality type, and matches them with roles in the HLTT sector that they are best suited to. 'Go-Getters' – those who show a natural aptitude for leadership and management roles – emerged as the joint most common personality type amongst the 1,000 people who took the test at WorldSkills 2011.
Alongside them, also with 22%, were the 'Gurus', whose organisation, project management and judgement skills also make them suited to management positions.
The findings could represent great news for the HLTT sector, which is currently facing a management skills shortage. The recent State of the Nation 2011 report, published by People 1st, revealed a further 69,000 managerial posts will be created across the industries by 2017, and that sectors are already struggling to recruit the required number of high calibre managers.
The report also highlights the need for better understanding of the wealth of exciting roles available in hospitality, leisure, travel and tourism, and that despite common misconceptions, there are a great number of inspiring and challenging career opportunities on offer to people with the right skills and training.
This is where the UKSP website can help. Lesley Potter, communications director at People 1st, adds:
"UKSP's role is to help bridge the gap between potential 'Go-Getters' and the demand for skilled managers in the HLTT sectors by providing expert advice and information on career paths, qualifications and training providers for aspiring managers and talented young people. With hundreds of current vacancies advertised on the site daily, plus inspiring case studies from people working in the hospitality, leisure, travel and tourism industries and interactive tools like the Personality Test, UKSP really is the ultimate resource for the 'Go-Getters' and 'Gurus' we want to be part of our sector".
For more information on launching a career in the hospitality, leisure, travel and tourism industries, or advice on how to progress to the next level, visit http://www.uksp.co.uk
For further information please contact Emma Parrish on 0207 010 0818 or email
###