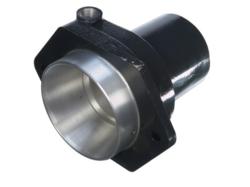 Toronto, Ont (PRWEB) November 08, 2011
The Improved Nex Flow™ Standard Air Amplifiers are quiet and reduce compressed air used for cooling and drying applications. Our Air amplifiers, often called Air Movers, move a large volume of air with a minimal amount of compressed air consumption "amplifying" the output as much as 15 times and more.
The output air has high volume, high velocity and has been proved more powerful, with higher laminar output velocity and with less air consumption and higher efficiency compared to similar designed "others" that often claim unrealistic results. We challenge anyone to compare!
The Nex Flow™ Standard Air Amplifiers are easy to mount using existing mounting holes. A fixed air outlet gap is maintained with a stainless steel shim that maintains consistent performance. Additional shims may be added for increased flow. There are no moving parts and is maintenance free. More efficient than venturis and ejectors.
Units are lightweight, no moving parts, and no electricity.
Applications include venting fumes and particles, blow-off of water, coolant, and to cool castings and replace fans
###