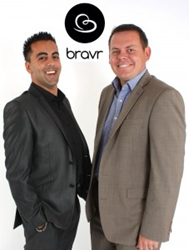 Our aim is to help our clients to be a little braver about their digital activity and expectations – we believe our new brand better reflects this.
London, UK (PRWEB UK) 8 November 2011
bravr.com, unveiled today, heralds a step up in ambition from co-founders Rob Passmore and Shahin Fard. The ex-Cheapflight duo, served as Commercial Director and Global Head of SEO and Online Marketing respectively, created a robust digital marketing agency formerly under the guise of Equals3. This has now been rebranded to bravr.
The management team bring with them intricate knowledge within travel and health industries, and beyond and have created an impressive client portfolio across four continents including Cheapflights, Xchanging, Momondo, Angeles Health, World Travel Guide and more. bravr offers five service lines - SEO, Paid Search, website design & development, social media and mobile application development.
Passmore said, "Our aim is to help our clients to be a little braver about their digital activity and expectations – we believe our new brand better reflects this."
Fard commented, "Rob and I have worked together for eight years and bring together a wealth of experience – not only within travel and search marketing but also across the broader digital marketing channels. bravr is what we're about now, and we're ready to shout about the great work we're doing for our clients.″
Passmore added, "Our core skill as an agency is implementing campaigns that grow our client's digital sourced revenues, rapidly and in a prolonged way, even in tough market conditions."
Find out more about bravr.com
###