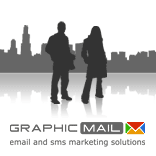 I keep recommending GraphicMail's wonderful mobile marketing services to new clients of mine. We are all happy with this great product.
(PRWEB) November 10, 2011
GraphicMail publishes case studies to report on three successful mobile marketing campaigns. The company sponsored non-profit organizations that won a mobile marketing competition with the service provider in July this year.
Owned by Quattro Internet Solutions, GraphicMail's mobile tools allow end users and white label partners to create SMS / Text messages with links to multimedia mobile pages and sites, while capturing campaign performance and user engagement via forms, polls and survey tools.
GraphicMail's mobile marketing cases studies have been released at an opportune time; just as Google urges all companies to establish a mobile presence - having published earnings from its mobile advertising business which is on track to bank more than $2.5 billion for the coming year.
GraphicMail selected two suitable candidates based on its July 2011 call for non-profit organizations to submit mobile marketing proposals as well as an enterprising student-run fashion -start-up to showcase their SMS / Text + link innovation.
An outline of the 3 mobile marketing case studies:
T-art: Founded as a team in the "50 to infinity" JP Morgan Young Entrepreneurs Showcase; fashion start-up T-art created an innovative 'status update' T-shirt as their competing product. GraphicMail launched their first mobile campaign in unison with Mobile Marketing Week and continued with it for the duration of the 2011 Rugby World Cup. This exposure ultimately enabled T-art to form business relationships with Groupon, Nedbank, TEDx and fashion retail chain Jay Jays.
Medic Alert: An international medical NPO that launched a project which aims to raise funds to provide healthcare necessities for vulnerable children and orphans. GraphicMail's mobile marketing tools were used to appeal to subscribers to make a once-off ZAR 200 donation to the project, and due to the bulk mobile campaign the MedicAlert website received 2000 hits and is now receiving 13 000 more visitors per month.
TB/HIV Care Association: A non-profit organization which aims to improve TB management by increasing access to Tuberculosis and HIV care, treatment and community support. The TB/HIV Care Association developed an acronym "ACT NOW", to spread awareness via mobile marketing and help people remember all the symptoms of TB to promote early diagnosis. Of those who clicked through to the mobile campaign, all proceeded to submitting the online mobile feedback form and motivated friends to do the same via sharing the SMS + link mobile message, which doubled the amount of feedback received.
"Using this mobile platform was a brand-new experience for us as a non-profit organization. Under the guidance of the Graphicmail team we were able to produce a unique campaign that promoted the awareness of TB symptoms, and tried to assess what people's baseline knowledge was. This was a fantastic learning opportunity for us." Alison Best - TB/HIV Care
Visit GraphicMail to read the full mobile marketing case studies for T-art, MedicAlert and TB / HIV Care.
"I keep recommending GraphicMail's wonderful mobile marketing services to new clients of mine. We are all happy with this great product and have listed GraphicMail as a sponsor to our website." Tina Thiart - Medic Alert
About GraphicMail:
Quattro Internet Solutions (Ltd) t/a GraphicMail has an all-in-one SAAS mobile campaign tool that offers a full house of marketing features; from a mobisite creator, opt-in list building functions, key metric and user-generated data feedback that help users adjust mobile campaigns for greater return on investment. GraphicMail's innovative product marries mobile sites and push marketing by way of a personalized web-link within bulk SMS marketing sends. This enables a message to be delivered directly to subscribers' phones with a simple click-through from an SMS, to channel viewers to an image-rich, personalized mobile site. GraphicMail is available in 10 languages and is represented by over 17 offices globally.
###