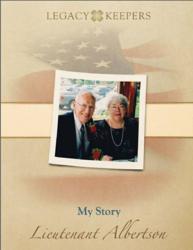 Bloomington, IND (PRWEB) November 07, 2011
This Veterans Day, Legacy Keepers is urging veterans and families of veterans to capture and preserve their stories for future generations. Whether it's recounting military service, a touching family moment or the wisdom passed down from a parent to a child, these memories, values and emotions are what transform a life into a legacy. Legacy Keepers, the only nationwide legacy and family history preservation service, will commemorate Veterans Day by donating to a veterans' organization a percentage of sales of its heirloom audio sets, memoir books and video DVDs.
With the average age of a WWII veteran in the late 80s, now is the time to preserve their stories. The U.S. Department of Veterans Affairs' estimates about 670 WWII vets will pass away each day this year. In just an afternoon with a Legacy Keepers personal historian, their memories and stories can be documented and then transformed into a beautiful keepsake for their families and loved ones to cherish for years to come.
The concept of leaving behind a legacy for loved ones is gaining steam. Although this term traditionally referred to financial preparations, there's now strong interest in preserving a more personal legacy, one that captures values, ethics and special memories, according to the "Allianz American Legacies Study." The study identified a trend of increased interest in capturing this material but an uncertainty of how to do so. That's where Legacy Keepers comes in.
"These stories need to be told and need to be captured. Whether you hire us, hire someone else, or tackle this as a DIY project, I urge you to just start now," said Corina Kellam, director of Legacy Keepers. "There is no way to repay soldiers for what they do for our country, and this is just a small way to send our thanks, and most importantly give them an opportunity to tell their legacy to younger generations."
Until the end of November, veterans receive 10% off Legacy Keepers services, and the company will make a donation to a veterans' organization (provide code "VETERANS" over the phone). In addition, veterans receive a free hour of interview time. Those Legacy Books feature a limited-edition Veterans Day cover.
For more information, call 1.877.444.3607 or log on to http://www.legacykeepers.com.
About Legacy Keepers
Legacy Keepers is the only company with a national network of Personal Historians and other heritage-preserving professionals who capture your story and turn your words and pictures into professionally produced audio, print and video legacies to share with present and future generations. With our private and professional services, Legacy Keepers makes it simple to record your personal legacy or that of a loved one.
###