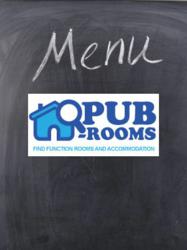 The core principles of Pub Rooms has always been to provide Pub owners and Inn Keepers with a facility to show visitors current information
(PRWEB) November 09, 2011
The British online Pub & Inn guide Pub Rooms, has reached another milestone since it was restructured in 2007. Founded in 2002, the 10 year anniversary has plenty of surprises in store for visitors to the site and pub owners.
Introducing the pub food chalk board menu and new look venue finder are just two planned up-dates for 2012.
The new look Pub Rooms website will take on a new design early in 2012 and will have an integrated update system for pub owners.
The British pub and inn guide previously listed venues with basic contact details images and telephone numbers the internet has changed dramatcially in the last 3 years, contact details are more than just phone numbers in todays internet World.
The biggest challenge for pub owners and inn keepers in the UK is to embrace website and internet marketing ensuring they keep their online profiles up to-date across the multiple platforms and channels that bring in new business and win new customers.
Look at any pub page on Facebook and out of 20 randomly selected pages at least 50% will have out of date information, in some cases as far back at one year.
Most websites have Christmas menus added at the end of Summer but still have offers for the current year Mothers day specials. This is the type of message that indicates the pub is closed and with the trend in pubs closing in the UK it's easy for a website visitor to assume the pub is closed.
All the pubs listed on Pub Rooms guide are open and up-dated.
It's been one of the single biggest points of failure for the pub industry, in particular for both free houses and tenanted pubs and inns. With little to no support from the landlords, tenants are never sure how much to invest in their online presence and that refers to both time and money. Managed houses across the UK have strong identities supported by the pub brands owners. You only need to look at the number of likes on facebook for sizzling pubs for the penny to drop.
The biggest problem any website faces is the lack of importance assigned to keeping it up to date.
A new initiative Pub Rooms will be introducing in 2012 to combat this so that local pub and inn owners can keep visitors informed will be from its new android app.
The choice of app was a simple decision. Facebook has it's core app in the form of pages and social graph. Apps that are pre-installed are difficult to compete with. A stand alone app that is driven by consumer choice is a different animal altogether. Just as getting pub owners to up date their websites is a challenge, getting them to use a (smart) mobile phone and download an app to update a website would be like climbing Everest.
Claims of success have been made by online pubs websites such as Pub n Bar network yet the chosen app, iphone limits consumer reach and here lies the problem, which smart phone is the landlords choice and which is the smartest for updating websites of the future. So visitors can find the right information.
Pubs and Inns being found and being contacted for the right reason should be made easier for website users and smart phone users.
With the emphasis on pubs being contacted directly there are still many leading pub websites not helping customer contact their local pub directly.
Pub and Inn owners have been slow to use the internet to increase footfall and awareness to their venues.
Working closely within pub industry for the last 4 years and being a customer for over 20 years the pub rooms team has witnessed several key areas where landlords have failed to embrace technology that if used properly would bolster and increase much needed footfall.
People's habits are changing too.
Going out less due to gloomy economic conditions in the UK means it's tough in all corners when trying to get customers into the restaurants and bars across the UK.
One of the biggest challenges for any pub owner is keeping on top of up-dating their daily offers. Seasonal offers can be managed easily but the daily food menu for example can be neglected.
The new app is still in beta test stage and will be launched in early 2012 when it is hoped pub owners will embrace the power of the internet it can have for bringing in the customers from near and far.
The future holds many challenges for Great British pubs and inns not least those that are only pubs.
The Pubs and Inns that adapted to the change in consumer demands are hanging in whilst the economic downturn of 2007 takes another bite from those already less well off. Yet it seems the old English inns of old know how to put on the charm offensive. It's a simple strategy. Provide great food and drink and serve it well and surprise surprise the customers keep returning. The big pub brand chains swiftly changed approach a few years back knowing that the smokers ban and cheap drinks sold through the super markets would only reduce the footfall and profit previously enjoyed by selling drinks over the counter.
The pubs and inn trade is mostly about food now so the introduction of the new Food menu will provide visitors with more information and choice.
Milestones of Pub Rooms
Restructure content to ensure details were accurate and according to location, pub inn type and respective venue facilities
Refreshed data and up-dated information 2008
The addition of Google maps and video came in 2008
Integrated Google maps feature 2009 (Activated by pub owners and inn keepers.)
The integrated twitter update facility for pubs and inn owners was launched at the end of 2010.
Integrated full search site wide for criteria function rooms, accommodation, seaside locations.
Direct contact form and counter
The core principles of Pub Rooms has always been to provide Pub owners and Inn Keepers with a facility to show visitors current information and for them to be contacted directly and not by a commission based booking system. It's an attempt to but the human into the website.
Established in 2002 as web guide and reference for British pubs and inns with accommodation and rooms to hire the new integrated app allows pub owners and inn keepers to up-date their details via their mobile phone.
###