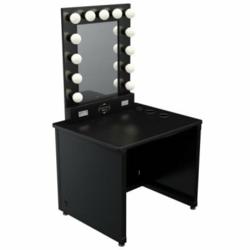 "These lighted mirrors are such a statement piece," declares Amanda Jacobelis, celebrity makeup artist and owner of Makeup Mandy on Melrose.
West Hollywood, CA (PRWEB) November 08, 2011
According to this helpful news segment by Entertainment News Reporter Suzanne Marques, the average woman spends $100 on beauty and cosmetic products a month. Beautylish's Ning Chao shares some amazing, affordable tips in the segment shot on location at Red Carpet makeup Studio Makeup Mandy on Melrose.
However, beautiful makeup is so much more than just the potion in the bottle. Technique and tools are critical. In fact, celebrity makeup artist Jeffrey Paul stated in a Beautylish panel last month, that artistry and skill make all the difference. But what about the average woman who may not have the access to trendsetters like Paul?
Consider this … .it's all about the lighting. In fact, Jeffrey Paul and Makeup Mandy Owner Amanda Jacobelis have both turned to Vanity Girl Hollywood (VGH) to meet their discerning lighting needs.
"These lighted mirrors are such a statement piece," declares Makeup Mandy, who is the working showroom for Vanity Girl Hollywood in Los Angeles. Her sparklynconfection of a makeup studio proudly uses three Black Broadway table top vanities to get their high-profile celebrity clientele ready for some of Hollywood's hottest red carpets. (Watch video)
But here's the best part … VGH lighted Hollywood vanities are available online and ships free throughout the United States! Although the brand has been embraced by celebrities and their makeup artists – Vanity Girl was designed to help the "average" girl create glamorous moments in their everyday lives.
"We wanted all women to have those Hollywood moments too," says founder, Maxine Tatlonghari.
At a starting price of $299, the vanities may seem like a bit of splurge but if you use it everyday – it comes to 81 cents a day over the course of the year AND the company offers a lifetime warranty on the product. According to YouTube beauty sensation Elessa Jade of Pursebuzz, it's an "affordable luxury."
Order one for the makeup lover in your life by December 16, 2011, and get it just in time for the Holiday Season.
About Vanity Girl Hollywood:
Vanity Girl Hollywood was created with one simple mission in mind: to bring a little piece of Hollywood glamour to women throughout the United States and Canada. A little backstage moment … whether that be walking the Red Carpet, taking your kid to soccer practice or starting your first day of High School.
Launched in 2008 by fundraiser-turned-entrepreneur Maxine Tatlonghari (after a devastating lay-off), the brand quickly became a celebrity darling lighting up the faces of famous beauties like Carrie Underwood, Jennifer Love Hewitt and Kim Kardashian. YouTube gurus such as Kandee Johnson, KorenZander,Makeup Geek and Emily Noel have also given the lighted mirrors their stamp of approval and major cosmetic brands are using the signature lighting at some of their biggest events.
Made In America by VersaProducts, Inc:
Vanity Girl Hollywood is headquartered in West Hollywood, CA. The lighted vanities and professional makeup mirrors are proudly made in Los Angeles, by VersaProducts, Inc. As a leader in American furniture manufacturing, this company boasts an impressive client list and utilizes green manufacturing practices. Visit VersaProducts, Inc. for more information.
# # #