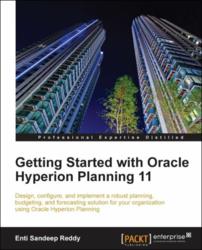 Birmingham, UK (PRWEB) November 09, 2011
Packt Publishing, one of the world's leading publishers of Oracle books is pleased to announce the publication of Getting Started with Oracle Hyperion Planning 11 - a book and eBook for Oracle Hyperion Planning professionals.
Oracle's Hyperion Planning is a leading planning and budgeting solution designed to manage and coordinate the needs of a business. Getting Started with Oracle Hyperion Planning 11 has been developed to take readers from the very basics of installing Hyperion Planning to implementing it in an enterprise environment.
Packed with complete illustrations, diagrams, and scenario-based examples, readers will learn to create planning objects, then move on to topics such as data forms, task lists, business rules, validation rules, and workflows. User provisioning, access rights, and budget process management are also covered.
Full book details can be found on the website of Packt Publishing. The book is available in eBook, Library and print copy forms from Packt and other leading booksellers.
Packt Publishing is a leader in Oracle Hyperion books, and has published:

Oracle Hyperion Interactive Reporting 11 Expert Guide
The Business Analyst's Guide to Oracle Hyperion Interactive Reporting 11
Oracle Essbase 9 Implementation Guide
In December 2011, Packt expects to publish its latest Hyperion offering:
Oracle Essbase 11 Development Cookbook
About Packt
Packt is committed to serving the informational needs of Oracle professionals whether they be Administrators, Developers, Architects or End Users. To date the company has published in excess of fifty Oracle titles, all of which can be found on the Packt website.
# # #