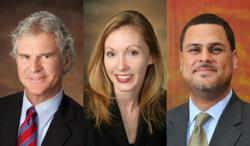 Burg Simpson managing shareholder Kerry N. Jardine said, " We are delighted that George, Jennifer and Calvin have agreed to become shareholders of the firm. All are extremely talented lawyers, whose legal acumen and leadership skills will prove invaluable
Denver, CO (PRWEB) November 07, 2011
Burg Simpson Eldredge Hersh & Jardine, P.C., one the country's leading personal injury, medical malpractice and consumer law firms, has expanded its practice in Colorado and Ohio with the appointment of three new shareholders.
George E. McLaughlin, formerly special counsel in the firm's Denver, Colorado office, becomes a shareholder. Mr. McLaughlin has successfully tried over 100 cases to verdict in state and federal courts in more than 30 states. For more than a decade he has been at the forefront of product liability litigation involving electric blanket fires. He recently obtained a jury verdict of $2 million, the largest reported verdict on such a case in the past ten years. Mr. McLaughlin is at the forefront of nationwide litigation involving defective hip, knee and other artificial joint implants.
Jennifer L. Keel also becomes a shareholder in Burg Simpson's Denver office. Ms. Keel focuses her practice on complex medical malpractice cases involving birth trauma, kernicterus, cerebral palsy and other brain injuries, spinal cord injuries, and many other medical and surgical errors that have resulted in catastrophic injuries and/or death. In addition to being a former paramedic, Ms. Keel spent two years as a tissue procurement specialist and procurement team leader for the Rochester Eye and Human Parts Bank, where she performed sterile and surgical tissue procurement procedures on tissue donors to recover transplantable joints and tissues for recipients across the country.
Calvin S. Tregre, Jr. becomes a shareholder in Burg Simpson's Cincinnati office. Mr. Tregre concentrates his practice in the areas of pharmaceutical and general products liability, personal injury, wrongful death, consumer protection, and civil rights litigation. He has experience in individual, class action, and multi-district litigation. Mr. Tregre was recently named to the Ohio Board of Governors of the American Association of Justice (AAJ). He is also a member of the Ohio Academy of Trial Lawyers, the American Association for Justice, the National Bar Association and the Black Lawyers Association of Cincinnati.
Speaking about these recent appointments, Burg Simpson managing shareholder Kerry N. Jardine said, " We are delighted that George, Jennifer and Calvin have agreed to become shareholders of the firm. All are extremely talented lawyers, whose legal acumen and leadership skills will prove invaluable to our firm and to our clients. Burg Simpson is committed to growing its business and providing injured individuals access to the justice they deserve."
With offices in Denver, Cincinnati, Cody and Phoenix, Burg Simpson Eldredge Hersh & Jardine, P.C. is a firm of award winning national trial lawyers who practice in the areas of personal injury claims, medical malpractice lawsuits, dangerous drug litigation, defective products, mass torts and class actions and business litigation.
###