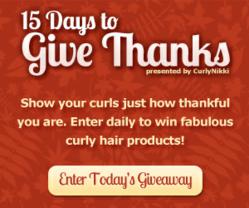 CurlyNikki is thankful that she has curly hair not only because it is unique but also because it automatically connects her to other amazing curlies.
Austin, TX (PRWEB) November 07, 2011
Curlies can give thanks to their natural beauty this November with 15 days of prizing! Naturals can enter each day to have a chance to win more than $10,000 in fabulous curl-specific prizes and be entered to win the grand prize of $1,200+ in curly hair products and a Huetiful Hair Steamer.
The best part of this time of year is the being thankful part. However, most curlies have struggled for a very long time with managing their hair. Whether it is worn curly, twisted, straightened, in a weave, relaxed, pressed, ironed, blown out or always pulled back in a ponytail, the love for curls is a rocky road. Hair is so tightly connected to self-esteem. CurlyNikki is thankful that she has curly hair not only because it is unique but also because it automatically connects her to other amazing curlies. When two curlies meet, there is an immediate, mutual understanding of the struggles involved with having curly hair. They all are very aware of the humidity and dew points. They all have history with good and bad haircuts. The joys and struggles with hair care products and second-day hair are universal. An immediate understanding that swimming, riding in a convertible car, and being caught in a rainstorm can all be a potential curl disaster. Curlies are thankful for the honesty and support that other curlies have offered them in their life.
In her quest to give back to naturals during this time, CurlyNikki is launching 15 Days of Giving Thanks in November. For 15 days, readers can enter to win products from some of the top natural brands, including Hairfinity, Eden, Bee Mine, Cibu, TwistedSista, CARA B, Amika, Uncle Funky's Daughter, TIGI, SoftSheen Carson, Shea Moisture, Marc Anthony, Hair Rules, Essentious and Karen's Body Beautiful. One grand-prize winner will receive a bundle of all of the best products from the sponsors.
"I am so thankful for so many things in my life, and my followers are a big part of that..." says Nikki Walton, creator/editor of CurlyNikki.com. "My mission with my blog is to provide balance between physical beauty and personal esteem in a way that defies societal norms—providing Hair Therapy to achieve real hair, real beauty and real self-esteem! This giveaway is the perfect extension to help women love themselves and to allow me to give back and be thankful for them."
About the Contest
Readers are encouraged to take part in our natural giveaway of various curly hair products from our 15 sponsors: Karen's Body Beautiful, Hair Rules, Hairfinity, EDEN BodyWorks, Bee Mine, Cibu, TwistedSista, CARA B Naturally, Amika, Uncle Funky's Daughter, TIGI, Optimum Care, Shea Moisture, Marc Anthony, Essentious and Huetiful!
How to Enter The Giveaway
15 Days of Giving Thanks Giveaway participants must register here to win. The giveaway begins November 7, 2011, at 12:00 a.m. CST and ends November 21, 2011, at 11:59 p.m. CST. Only online entries will be accepted. No purchase is necessary to enter or win.
A big part of loving your natural hair is knowing how to care for it, so CurlyNikki has complied a list of eight tips that your curls will thank you for.
1. Dry style your hair, especially in the winter. Dry styling aids in preventing curls from coiling around each other and creating more tangles that result in breakage. Try dry styling bantu knots, twist outs or braid outs.
2. It's best to apply oil to your hair when it's wet. This will help your hair hold in the moisture that's already on the hair shaft.
3. Don't use petroleum-based products too often. When you do use them, apply them only to the hair, not to your scalp. Petroleum-based products have ingredients that clog your pores and attract dust.
4. Get your aromatherapy on by massaging your scalp regularly with natural oils. Oils such as lavender, rosemary, jojoba, and grapeseed are natural solutions to help thicken your hair as you circulate your blood flow and encourage hair growth.
5. Try mixing up a quick hair mask by applying an egg onto your hair, massaging it in and leaving it on for no longer than five minutes. Do this egg mask treatment weekly to add protein to your hair and strengthen your strands.
6. Looking for a style with less frizz? Try a braid out! Braid outs are often less frizzy than twist outs because the hair gets "smoother" in the prepping process and the braid pulls the hair tighter and straighter than a twist would.
7. Use water; water is by far the best moisturizer known to man. In between a styling session, simply dampen the hair then seal in the moisture with a light oil like jojoba or grape seed oil. A popular method of doing this is with the use of a spray bottle.
8. Grease provides awesome slip when dry twisting and you'll notice that you'll encounter fewer tangles and snagging. It really creates a protective barrier around each strand. Be sure, though, to wash it all out with normal shampoo, not just by cowashing, or else it will build up.
Learn how to love and embrace your natural hair with articles, styling tips, product reviews and more by visiting http://www.CurlyNikki.com
About TextureMedia
TextureMedia™, Inc., formerly The NaturallyCurly Network, is the social media company empowering, embracing and connecting the world of curls, kinks and waves. The flagship brand, NaturallyCurly.com®, is the trusted leader in original content and community for the influential woman. Other online brands include CurlStylist.com™, a professional community for stylists servicing the textured hair clientele; CurlMart.com®, a boutique ecommerce site showcasing more than 60 brands and 550 community-vetted products; and CurlyNikki.com™, the leading natural hair expert in the blogosphere, encouraging people everywhere to share their experiences, frustrations and triumphs of being naturally glamorous. The company introduced two new brands in 2011: Curls On The Go™on iPhone and Android mobile platforms, and TextureTrends™, semi-annual syndicated market intelligence addressing the growing needs and requests of hair-care brands. The company's footprint spans every corner of the globe, engages its audience across multiple platforms – online, mobile, social and print -- and partners directly with hair-care brands and publishers to reach this active consumer group through advertising, sponsorship, social commerce, events and market insights.
Media Contact:
Alicia Ward
TextureMedia
512.371.7545, ext. 305
press(at)texturemediainc(dot)com
texturemediainc.com
###