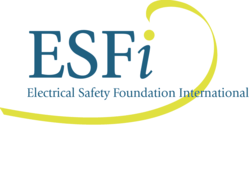 The hectic yet joyous nature of the holiday season can easily distract families from thinking about the hazards associated with this time of year.
Arlington, VA (PRWEB) November 07, 2011
With the holiday season rapidly approaching, the Electrical Safety Foundation International (ESFI) is launching its annual holiday safety awareness campaign to encourage families and communities across the country to Make Safety a Tradition of the winter holiday season.
Statistics show that increased risks of fire and electrical hazards come along with this celebratory time of year. Statistics from the National Fire Protection Association (NFPA) indicate that 30 percent of all home fires and 38 percent of home fire deaths occur during the months of December, January and February. Between 2004 and 2008, an average of 260 home fires each year started with Christmas trees and another 150 home fires per year were caused by decorative and holiday lights.
"The hectic yet joyous nature of the holiday season can easily distract families from thinking about the hazards associated with this time of year," said ESFI President Brett Brenner. "We are thrilled to be leading the effort to raise awareness of these often overlooked holiday hazards so that they can be identified and corrected before a serious situation can result."
Incidents of serious injuries and poisonings are increasingly prevalent during the winter holiday season as well. About 5,800 individuals are treated annually in hospital emergency rooms for injuries sustained from falls involving holiday decorations. In addition, 4,000 people per year are treated in emergency rooms for injuries associated with extension cords. The risk of poisonings also increases, resulting not only from common household items, but also carbon monoxide (CO).
The 2011 Make Safety a Tradition campaign encompasses all aspects of holiday safety, with an overarching theme of children's safety. An integral part of the holiday safety program is ESFI's annual Holiday Safety Community Toolkit that provides consumers with a collection of new resources to help them make safety a priority all season long. In addition, ESFI's seasonal website features tips, facts, statistics, trends and safety reminders to help keep families and communities safe this season.
New components to this year's campaign include four new holiday-themed public safety announcements that encourage holiday safety in the home and seasonal additions to the online Kids' Corner, which teaches safety concepts through animated videos and games.
Visit http://www.holidaysafety.org to download ESFI's complimentary 2011 Holiday Safety Community Toolkit and to find many more tips and tools to help keep you and your family safe during your holiday activities.
The Electrical Safety Foundation International (ESFI) sponsors National Electrical Safety Month each May to increase public awareness of the electrical hazards around us at home, work, school, and play. ESFI is a 501(c)3 non-profit organization dedicated exclusively to promoting electrical safety. For more information about ESFI and electrical safety, visit http://www.electrical-safety.org.
###