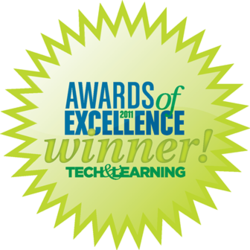 Scottsdale, AZ (PRWEB) November 08, 2011
Tech & Learning, a magazine focused on the acquisition and application of educational technology in K-12 classrooms, named the eInstruction Mobi View™ mobile interactive whiteboard one of the "Best New Products" in its 2011 Awards of Excellence recognition program.
Tech & Learning's Awards of Excellence program, which has recognized groundbreaking, innovative and proven education technology solutions for nearly 30 years, selected the best modern classroom tools from more than 160 technology submissions. The 53 winning submissions were judged by a panel of more than 30 educators, as well as the magazine's editorial team, and were selected on the basis of effectiveness, ease of use, creative use of technology, and suitability for use in an educational environment.
"eInstruction is dedicated to providing engaging, interactive technology that supports educators' goals of driving student progress," said Eileen Shihadeh, Vice President of Global Marketing at eInstruction. "We are honored to be recognized by Tech & Learning again this year for our work to deliver on that promise."
Starting at only $449, eInstruction's Mobi View™ mobile interactive whiteboard is the first of its kind to offer a large LCD touch screen that provides the ability to control lessons from anywhere in the classroom, so teachers don't have to return to their computers during a lesson. Mobi View's Workspace™ software allows users to annotate, highlight, and interact with engaging, multi-media lesson content projected onto any surface, including pull down screens present in nearly every K-12 classroom. Exclusive to eInstruction, when used with Mobi™ Learners, the multiuser platform allows up to nine students to simultaneously contribute content on one display, creating collaborative and student-centered learning environments. Additionally, when used with eInstruction's CPS™ student response system, Mobi View's built-in color LCD screen instantly displays student responses, allowing educators to receive real-time formative assessments privately.
About eInstruction™
eInstruction is a leading education technology company dedicated to providing interactive teaching and learning technology and services that help educators drive academic progress every day, and give administrators the ability to monitor, aggregate, and analyze student performance data. The company offers educators a family of software, student response systems, fixed interactive whiteboards, mobile interactive whiteboards, professional development, and content.
eInstruction's research-based solutions have been shown to increase student engagement and achievement while providing real-time feedback and performance data to educators and administrators. Millions of students, teachers, and professors use eInstruction® technology in 500,000 K-12 classrooms and more than 1,000 higher education institutions around the world. Available in more than 40 languages, eInstruction® technology is enhancing education in over 90 countries worldwide. eInstruction has offices in Denton, TX; Scottsdale, AZ; Cincinnati, OH; and Paris, France.
To learn more about eInstruction, please visit http://www.einstruction.com. For media inquiries, please contact Julie McKinney at Stanton Communications at (410) 727-6855 or jmckinney(at)stantoncomm(dot)com.
###