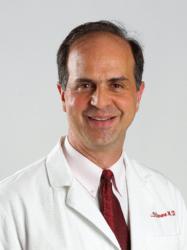 "XLIF offers a safe, reproducible and less invasive alternative to traditional spine surgery," said Dr. DiSimone.
Williamsport, PA (PRWEB) November 07, 2011
Chronic back pain is one of today's most common adult medical problems. "Recent statistics released by eMedicine.com indicate that nearly 90 percent of American adults at some point in their lives experience lower back pain," said Dr. Ronald DiSimone, an orthopedic spine surgeon with Susquehanna Health Medical Group. In response to these statistics, Susquehanna Health will offer a free educational seminar presented by Dr. DiSimone on surgical and non-surgical treatment options for chronic back and leg pain on November 17.
According to Dr. DiSimone, the majority of patients can be treated non-surgically through lifestyle changes, physical therapy or medications while about three to five percent require surgical intervention. In January 2010, Dr. DiSimone began using a new, minimally invasive surgical technique called eXtreme Lateral Interbody Fusion (XLIF) designed to reduce a patient's post-operative pain and recovery time. Since then, Dr. DiSimone has performed about 200 XLIF procedures. "XLIF offers a safe, reproducible and less invasive alternative to traditional spine surgery," said Dr. DiSimone. "This approach provides greater access to the spine, better visualization during surgery, results in less tissue disruption and blood loss and yields faster recovery times."
The XLIF technique is different from traditional or open spine surgery. Traditional anterior spine surgery could require the removal of part of the rib. With XLIF, the surgeon is able to work through the rib cage without rib removal. The surgery is executed through two small incisions, one above the side of the waist and another near the back muscles. This state-of-the art technique is performed in concert with a nerve monitoring system that allows the surgeon to observe the patient's nerve activity and provides a safer spinal approach with instruments and implants during the procedure. In general, XLIF helps heighten the disc space in the spine while decompressing the nerve root to reduce pain and improve spinal stability.
Most patients are able to walk around within hours following surgery and are discharged from the hospital the next day. Overall, recovery time is around eight weeks compared with the six months required by traditional back surgery. The timetable for recovery, according to Dr. DiSimone, is dependant upon the body's ability to grow bone around the implant(s) and the level of activity to which the patient is accustomed. "We are realistic about setting expectations," said Dr. DiSimone. "Not everyone with lower back pain is restored to 100 percent of what their experience was prior to their surgery. By the time they see us, many patients have lost their ability to provide for their families or have given up portions of their lives to debilitating pain. We are here to provide tools and ways for them to get their lives back in some reasonable way."
Michael McHale of Sunbury, PA is an example of the benefits of XLIF surgery. He visited Dr. DiSimone when the pain in his back and legs from lumbar spinal instability became debilitating. Dr. DiSimone recommended and performed XLIF. The surgery has not only offered McHale relief from leg pain, but got him back to work and off disability status. His post-surgery rehabilitation included a formal retraining of the proper lifting techniques for his trade and walking. McHale returned to his job as a supervisor at a cabinet factory just four months following surgery. "Michael was able to walk without leg pain, which was a significant improvement over his preoperative status," said Dr. DiSimone.
In 2003, Money magazine recognized Dr. DiSimone and neurosurgeons Dr. Rodwan Rajjoub and Dr. Hani Tuffaha among the best surgeons in the northeastern United States for back and neck surgery. In 2010, Susquehanna Health's Williamsport Regional Medical Center was awarded the Blue Distinction Center for Spine Surgery recognition from Blue Cross of Northeastern Pennsylvania.
The Chronic Back and Leg Pain seminar presented by Dr. DiSimone is scheduled November 17 from 6 to 7 pm at the Holiday Inn, 100 Pine St., Williamsport, PA and is open to the public. Registration for this free event is required by Nov 11. To reserve a seat, please call 877-883-4791.
About Susquehanna Health
Susquehanna Health is a three-hospital integrated health system including Divine Providence Hospital, Muncy Valley Hospital and Williamsport Regional Medical Center located in northcentral Pennsylvania. Serving patients from an 11-county region, Susquehanna Health is a healthcare leader and has been recognized at the national and state levels for quality of care. Susquehanna Health offers a wide array of services that include cancer treatment, heart and vascular care/heart surgery, neurosciences including neurosurgery, orthopedics, urology, OB/GYN, gastrointestinal services, behavioral health, physical rehabilitation, home care, long term care, assisted living and paramedic/ambulance services.
###