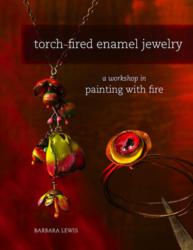 The only book in the marketplace devoted entirely to torch-fired enamel
Washington, DC (PRWEB) November 09, 2011
With the price of silver continuing to sky-rocket, Washington, D. C. Area artist, Barbara Lewis, pioneers the enameling of inexpensive steel beads that gives added value to jewelry. Enamel is experiencing a resurgence in popularity as continuing economic realities engage Do-It-Yourself-ers to enamel beads and components for their jewelry creations using an inexpensive torch rather than an expensive kiln.
Barbara Lewis' innovative Painting with Fire (PWF) enameling technique has revolutionized the enamel art form. By applying enamel to HOT metal, several steps are eliminated from the enameling process, which allows a simple bead to be enameled in 40 seconds. Lewis, a Thompson Enamel distributor, provides all the materials necessary for jewelry artists, with a touch of pyromania, to personalize their work by enameling their own beads, jewelry components, and metalwork. Her patent-pending bead pulling station, the workhorse of the system, keeps fingers away from hot beads and makes for their quick removal.
As a result of Lewis' 20 years of experience as an artist and her popularity as a workshop instructor of the Painting with Fire technique, the interest in torch-fired enamel continues to explode as she educates others through her new book, Torch-Fired Enamel Jewelry: a Workshop in Painting with Fire (North Light Books 2011), the only book in the marketplace that deals exclusively with torch-fired enamel. The PWF technique brings this art form to the general public by eliminating the need for an expensive electric kiln.
Lewis states, "Nearly every day I receive an email thanking me for teaching this technique or writing the book. The Painting with Fire Ning, a networking group I created and continue to moderate, helps to support an artist's enameling success by providing a place of moral and technical support. It's what I consider the "extended warranty."
Torch-Fired Enamel Jewelry: a Workshop in Painting with Fire (North Light Books) is a true labor of love, featuring:

A hands-on, in-depth approach to enameling beads, pendants and other metal findings using a torch instead of a kiln
An extensive enameling workshop, with information on equipment, materials and safety considerations
Tips and tricks for making truly unique pieces: learn how to modulate color, create burnt edges and manipulate the gas/oxygen ratio to achieve color flashes and smoky hazes
Jewelry and metalworking techniques, from wire-wrapping to etching copper sheet, that create a perfect backdrop to your stunning enamel creations.
The book is now available in stores and online, and at Lewis' website: http://www.paintingwithfireartwear.com. For more information, please contact Barbara Lewis at (301) 643-3151 or blewis(at)md(dot)metrocast(dot)net
For more information:
http://www.paintingwithfireartwear.com
http://www.torchfiredenameljewelry.com
http://www.facebook.com/pages/Painting-with-Fire-Ning/152547538153504
http://www.paintingwithfireartwear.blogspot.com
# # #