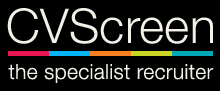 United Kingdom (PRWEB UK) 9 November 2011
Specialist IT Recruitment Agency CV Screen report a year on year increase of 27% in the number of IT Jobs registered.
CV Screen looked into the number of registered vacancies during Q3 of 2010 and compared these to the total number of registered vacancies during the corresponding quarter in 2011.
During the same period, CV Screen also analysed the number of applications made by job seekers and found that the average number of CVs received for each role had dropped by 8% with an average of 192 CVs received per vacancy.
Commenting on the findings CV Screen's Matthew Iveson remarked "there is no doubt that demand for IT staff has risen substantially over the last 12 months and a 27% increase is certainly good news for IT professionals who are seeking employment."
Iveson continued, "We have seen that there is continuing high demand for candidates with strong development skills with both PHP and .NET skills still areas where there is a shortage in supply of experienced developers who are seeking a new role."
When asked about the outlook for the IT jobs market, Iveson commented, "We are confident that the market will continue to improve as companies look to invest in their IT departments. It is clear however that there is still some uncertainty in the marketplace which is reflected in a slightly lower number of candidates who are applying for roles."
About CV Screen Ltd
Established in 2000, CV Screen is a leading IT Recruitment Agency which recruits for organisations throughout the UK.
With fees of 12.5% of the basic salary for permanent recruitment, our service enables our customers to reduce their recruitment costs without compromising the quality of candidates they recruit.
As one of the UK's leading IT Recruitment Agencies, we have an impressive client base including Links of London, Essex County Cricket Club, Hackett Plc and Easy Group.
As one of the UK's leading recruitment agencies, we also have new specialist divisions focusing on Accountancy Recruitment and Marketing Recruitment.
For further information, please call us on 01494 541 880.
###