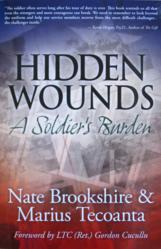 "Tens of thousands of soldiers are scarred psychologically. They suffer from PTSD and more. The stigma of 'mental illness' precludes solders seeking help that would give their life back." Kevin Hogan, Psy.D. Author of The Psychology of Persuasion
Washington D.C. (PRWEB) November 08, 2011
US military vets are coming home.
Their visible scars are evident; what you don't see is their Hidden Wounds.
Two U.S. soldiers are sounding a warning to act now before Post Traumatic Stress (PTS) explodes in America's families and communities.
Hidden Wounds: A Soldier's Burden to be released November 15 by Network 3000 Publishing, shows how the inner trials of a US Serviceman can haunt a lifetime and impact an entire family.
"This book is a platform for the conversations that must take place so that we can address and heal issues such a PTS, addictions, suicide and survivor guilt to help individual Vets recover and reintegrate," says co-author and active U.S. Military Officer, Nathan Brookshire.
"Rather than glorify war, we shed light on ordinary men and women in the military, who day after day are faced with life and death decisions," says co-author Marius Tecoanta.
Brookshire (deployed today) and Tecoanta (now stateside), have written a historical fictional novel that takes the reader from the present day to the major theaters of WWII, to the Soviet Gulag and back to our contemporary 'War on Terror.'
Hidden Wounds: A Soldier's Burden takes an extraordinary stance.
The story's main characters, struggle to preserve a shred of humanity in the middle of the madness. Hidden Wounds is an explosive mix of tank battles, love, guilt and quest for forgiveness that spans the life of three generations.
Brookshire and Tecoanta began planning this book at Ft. Benning, Georgia during a 14 week course at Officer Candidate School (OCS).
The book alternates the voices and experiences of an American and a German soldier whose lives and families become intertwined on the battlefield in the last stages of WWII.
The public can help returning soldiers by picking up the book November 15, 2011 on Amazon. The book's site is: http://www.hiddenwoundsthebook.com
Brookshire and Tecoanta along with the publisher, have chosen to donate proceeds from book sales to http://www.hiddenwounds.org in support of their work with challenges faced by returning vets.
Neither the authors or publisher have any connection to the charity which helps these men and women.
Nathan Brookshire is currently deployed in S. W. Asia with the United States Army. "Nate" completed multiple combat tours in his 21 year career. He lives in Columbia, South Carolina with his wife and children.
Marius Tecoanta is a commissioned officer with the Oregon National Guard. His passion for Military History, research and performing in depth interviews of WWII Veterans ensures the historical and military accuracy of the book. He lives in Beaverton, Oregon with his wife and son.
•Paperback: 192 pages
•Publisher: Network 3000 (July 15, 2011)
•Language: English
•ISBN-10: 1934266221
•ISBN-13: 978-1934266229
Marius Tecoanta can be contacted at marius.tecoanta(at)gmail(dot)com
###